The holidays have come and gone. The leftover Christmas-style beers are still lingering on some store shelves — super discounted (yeah, I found Delirium Noel on sale at Costco for $1.97 FTW!). And although you might be a bit bored with the roasted, toasted, spiced holiday ales — do not completely give up on them. It might sound weird to some, but I've used non-traditional spices like cinnamon, nutmeg, all-spice, etc. in chili and have found them to add an interesting layer to the overall spice structure of the chili. Now onto the recipe, shall we?
DISCLAIMER: The photos are not mine.
INGREDIENTS
BEER: 2 bottles Delirium Noel (22 ounce bombers — one for the recipe, one for pairing)
MEAT: 3 pounds total
Personally I like to use a mix of meats. This time around I went with 2lbs of ground beef (80-20) and 1lb of ground "hot" pork sausage.
VEGGIES:
Bell Pepper Trio: red, yellow or orange, green — seeded and diced
Poblano Pepper: seeded and diced
2 Jalapeno Chile Peppers: with seeds and finely minced (I like it hot, feel free to cut back)
5 Garlic Cloves: finely minced
2 Yellow Onions: diced
SPICES:
Smoke Paprika: 2 TBSP
Cinnamon: 1 TBSP
Cayenne Pepper: 1 TBSP
Salt & Pepper: to taste
FROM THE CAN:
4 (8oz) cans of Diced Tomatoes
1 can Tomato Paste
1 can Black Beans
1 can Pinto Beans
2 tablespoons Extra Virgin Olive Oil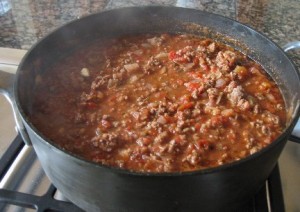 INSTRUCTIONS
Open a beer, any beer and drink.
Heat oil in a large soup/stew pot over medium-high heat. Add 4 cloves minced garlic (save one minced clove for the end) & 1 minced Jalapeno (save the other one for the end). Allow garlic to sweat. Add onions, all bell peppers, and poblano. Sauté on medium heat until vegetables begin to soften (about 20 minutes). Once soft, pour in half a 22ounce bottle of Christmas beer or a full 12 ounce bottle. Allow to marinate for 10 minutes. Then add diced tomatoes and tomato paste.
Sauté beef and sausage in a large skillet over medium-high heat until no longer pink, breaking up with spoon (you can do this while the veggies are cooking). Mix in the smoked paprika, cinnamon and cayenne pepper. Pour in half a bottle of Christmas beer (or a full 12 ounce bottle). Simmer the meat in the beer for 20-30 minutes on medium low heat.
Add beef mixture to pot. Salt and pepper to taste. Depending on HOW thick you like your chili, feel free to add beef broth, water or more beer at the stage.
Bring chili to boil, stirring occasionally. Reduce heat and simmer for an hour.
Season with salt and pepper to taste. Feel free to spike the chili with hot sauce until desired heat is reached. If the chili gets to hot, feel free to add more beer to the pot. Or your mouth.
Garnish with chives — and for all of you lucky kids who aren't lactose intolerant like me, feel free to garnish with sour cream and your favorite cheese. Serve with BEER CORNBREAD and pair with the 2nd bottle of Delirium Noel.
ENJOY!