This morning, Jay Brooks of Brookston Beer Bulletin tagged me in what I will call a pseudo chain mail style post circa 1990. Unless you were born in the 90's (and if so, why on earth are you reading my blog?), you are probably familiar with these types of emails. Your friend send you a list of questions, you have to fill them out with your own answers and then pass it on to a certain number of friends otherwise you will face 10 years bad luck…
Not one to pass up an opportunity to talk about myself (who are we kidding here), it was only natural that I accept Jay's challenge to fill out the questions and then tag some of my favorite fellow bloggers to carry the torch…
The theme of the challenge is "7 Things You Don't Know About Me" — which, for me, is an extremely tough challenge considering I am pretty loud on the Internet and don't hide anything. But after a lot of contemplating and a pint of beer, I was able to scratch up a few answers.
7 THINGS YOU MIGHT NOT KNOW ABOUT THE WENCH
1. My natural hair color. But no worries, I don't know it either. I do know for certain that I am a natural blond. Or at least I was once…
2. I ran the Olympic Torch in 2002. My parents actually bought the torch, which means I own a legit Olympic torch that still has char from the original flame. Pretty rad once in a lifetime experience, if you ask me. But then, nothing compares to actually competing in the Olympics. And I'm proud to "boast" that several of my past teammates and fellow athletic colleagues from Ohio State have competed and medaled in the Olympics.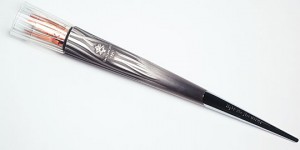 3. My wing span is 6 foot 1. My arms and fingers are abnormally long (my arm is literally the SAME length as my leg). And I have a theory behind why this is, which brings us to answer number 4…
4. I didn't it puberty until I was 16. I know this is an awkward statement, but we are all adults here. I have a theory that, like many athletes, I stunted my growth as a child. My metabolism was super fast. Much to my teacher's dismay, I was also hyperactive and could not sit still for the life of me. Combine this with hours of  training and hours of hardcore competition a week (mostly swimming, some track and field). It didn't matter how much or how often I ate, my body did not produce enough energy to grow. My doctors always predicted that I would be taller than my parents, who are both 5'11. According to the "Golden Number" theory, height has a direct correlation to arm span. In conclusion, I am supposed to be somewhere between 5'11 and 6'1, but I am only 5'8. And I really do wish I was taller.
5. I have lived in 10 different places in 4 different states in the past 2 years. The gypsy lifestyle can be both exciting and depressing. My transient path, although rich with friends, is actually very lonely. My lifestyle is a pretty solid representation of my personality. It takes a lot to hold my interest. I hate hitting success ceilings and barriers to growth. I get really antsy when I am not being intellectually stimulated or challenged, which usually results in an immediate change of my situation (i.e.: job change, relocation). Thankfully, I am in love with my current job and am blissfully happy with living in the SF Bay Area… so maybe this gypsy wench will get a bit more grounded.
6. I don't date. Oddly enough, I have never been in a serious relationship with another person. One could probably deduct from my inability to sit still or live in one place too long, that I have a fear of commitment. This would be a half correct consumption. I was an awkward ugly kid, driven by athletic and academic success. Boys were not interested in me, and I was not interested in them. I saw them as a deterrence to my success. And being in a relationship never became a priority in my life. My parents actually thought I was a lesbian for some time because of my disinterest in dating. But now my mom just tells people I'm asexual — and I'm not even kidding.
7. I am a dancing queen. Those that know me in person are already aware of this fact. Dancing music of preference changes just about as frequently as my lifestlye does. I have ballroom training, with a heavy emphasis on swing. I have taken over 10 weeks of country line dancing lessons. Right now, I'm really into salsa (and for a white chick, I've got skills). In the past, I was really into electronic. And naturally, I love dancing to 80's, disco, reggae, and pop music. I think I love dancing almost more than anything else in this world… it probably falls 3rd in line. 1. Ohio State 2. Food & Beverage and 3. Dancing.
Well, that is the best I could come up with at this time. Now for the fun part, what other bloggers should I  loop into this self-promotion scheme?
The first nomination goes to my mentor:
Stephen Beaumont, Blogging at The World of Beer
The next few go to some of my dearest (beer blogger) friends:
Tatiana Peavy, A Strong Fuggly Brew
Chad Yakobson, The Brettanomyces Project
P.J. Hoberman, Starting A Brewery
Alex P Davis, Bike. Bus. Beer.
Stephen Johnson, New Brew Thursday
Carla Companion, The Beer Babe
And now for some wine bloggers:
Amy Corron-Powers, Another Wine Blog
Thea Dwelle, Luscious Lushes
Joe Roberts, 1 Wine Dude
Gabriella Opaz, Catavino
And last but not least, brewery blogs:
Greg Koch, Stone Brewing Co.
Ryan A Ross, Karl Strauss
Daniel Del Grande, Bison Brewing Company
Mariah Calagione, Dogfish Head Brewing Company
And even though I already named 15, I'm going to go out on a limb and challenge:
Gary Vaynerchuk, Wine Library TV
As with the chain emails of the past, this chain blogging post carries with it SEVERE circumstances for those who ignore its tag. No folks, not 7 years bad luck or 10 years bad sex. My threat is public humiliation and tauntings from The Wench. Cheers!