This post is a little late, so I apologize to both my sister and Jester King Craft  Brewery. But regardless, better late than never. Right?
I'm really excited to have a "guest" writer on my site for this post. And I am particularly excited because this writer is also my younger (only) sister. The most ironic part about the whole thing is that my sister doesn't actually drink beer… and rarely, if ever, drinks alcohol.
Now I know what you are thinking, how on earth are we related? Let's just say, it happens…
Anyways, my sister and her best friend from high school have a long distance baking blog called, The Daily Bread. And although she doesn't actually drink beer, my sister likes to bake bread with it.
In January, she wrote me an email saying, "It's also sad that I was planning on going to a brewery opening just because I want to use one of their beers to make bread with…" Which is cute, yet depressing. Not looking to pass up an opportunity I responded to her, "Haha… well you should go to the brewery opening and take pics and scope out the scene for me. You could be a field reporter for my blog. Don't worry about tasting notes, just provide photos. And I can write up a little doo-da."
Well, she ended up writing the doo-da as well. And here it is, the "scoop" on Jester King Craft Brewery in Austin, TX (according to the Wench's non-drinking sister):
Went to the Jester King Brewery Opening today with Patrick and Matt.  There were probably around 2000 people there, what a zoo! Live bands, a beard contest, brewery tours etc.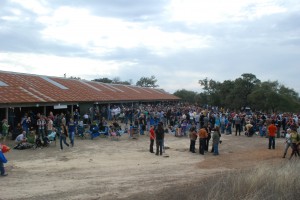 There should be info about all the beer we tasted on the site.
Patrick liked the Boxers Revenge (A Farmhouse Provision Ale described on the website as being: Full-flavored, dry, champagne-like farmhouse ale, dry-hopped with floral, citrusy, Cascade and Centennial hops and re-fermented in French oak wine barrel with wild yeast. One to keep around!) best. It was citrusy, bright and very highly carbonated (sort of like Champagne). He said it was very delicious.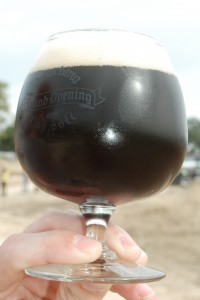 We also tasted Commercial Suicide which neither one of us was a huge fan of, and not Matt either. It tasted smokey and like coffee. (Described on the website as a Oaked English Mild — A true "session beer", Commercial Suicide is an authentic English dark mild with notes of caramel, coffee and chocolate. A portion of each batch is aged in medium toast American oak barrels, lending very subtle toasted, oaky notes to the finished beer.)

We also tried the Wytchmaker Rye IPA which was very bitter, reddish in color and very hoppy.
There was a classic car show and way many more people than they had expected. I would say you should get in touch with the brew master because Matt and Patrick both agreed that this beer was far superior to what we had the other night at the North by Northwest Brewery in ATX and also the Draught House now has a few of their beers on tap… seems like it will be an Austin Craft Brew Favorite.
Special thanks to my little field reporter, Becca Routson, for her awesome photography and insight into Jester King Craft Brewery. I look forward to visiting both her and the brewery in Austin, hopefully very soon!
CHEERS!
ABOUT JESTER KING CRAFT BREWERY
Lo
cated in the beautiful Texas Hill Country,Located in the beautiful Texas Hill Country, Jester King Craft Brewery is an authentic farmhouse brewery committed to brewing artisan ales of great depth and character. At times drawing influences from the world beyond traditional brewers' yeast, Jester King's beer is not rushed to market but allowed to mature – often in oak barrels – to create the most enjoyable, interesting and exciting beer we can make. An additional layer of complexity is added to Jester King's bottled beers by allowing a second fermentation to take place in the bottle. As part of its commitment to sustainability, the slow food movement and Texas, Jester King beer uses as many organic and local ingredients as possible and will soon be brewed with harvested rainwater.
Follow @jesterkingbeer on Twitter!
Fan Jester King Craft Brewery on Facebook!