Considering collaboration beers are one of the fastest growing trends in the craft beer industry, it is only natural for bloggers to follow suit and work together as well. Beer bloggers Angelo De Ieso of BREWPUBLIC and Ashley V Routson of Drink With The Wench have banded together for a series of collaborative blogs posts, endearingly called "I'll Show You Mine if You Show Me Yours" — aka a his and hers series. In our first collaborative article, we take a look back at some of our favorite moments, beers, and highlights of 2011. We hope you enjoy our banter… Cheers!
Several craft breweries made waves this year – whether it be announcing new projects, collaborations, major expansions, or other extraordinary achievements. In your opinion, what brewery was the most impressive in 2011?
Angelo: I think the whole idea of New Belgium and Sierra Nevada opening up on the East Coast or Stone opening in Europe is big news. When that actually comes to fruition, maybe in the next year or so, those will be huge. But as far as what I've been impressed with in 2011 is the exponential growth of craft breweries, especially village and neighborhood breweries. This gives each region within a region its own personality and flavor.
Expansions by Ninkasi, Deschutes, and 10 Barrel Brewing are quite impressive. Speaking of Deschutes and 10 Barrel, the growth of the Bend, Oregon beer scene is mind boggling. GoodLife Brewing is totally kicked ass in their first year in existence. I see many more great things coming from them. Also, Logsdon Farmhouse has been impressing a lot of palates around here. This is understandable since founder Dave Logsdon is no rookie when it comes to beer. He was an original brewmaster for Full Sail and helped start Wy'east Labs. I'm also continually impressed by Breakside Brewery and what they are turning out.
Brewer Ben Edmunds landed a GABF silver for his stout in his first year brewing pro. I am also stoked about a potential expansion from that brewery. Other noteworthy tidbits include Hopworks new Bike Bar opening, Alameda's new expansion production facility, many new bottle shops and taprooms coming to life, and the soon to be all-star tandem that is Gigantic Brewing. Oh, yeah, and the fact that there are new breweries popping up in Vancouver,WA like that tasty Mt Tabor Brewing and soon Loowit Brewing over there. Too much to mention all around the PNW.Almost even forgot to mention the phenomenal flavors coming out of The Commons Brewery in SE Portland, too
Ashley: I agree with you that Sierra Nevada, New Belgium and Stone's announcing the development of satellite breweries is monumental, but since they have yet to happen I cannot say they were the most impressive moves in 2011. The brewery that stands out most to me this year was Ninkasi, which experienced the greatest growth in the craft beer industry this year. Ninkasi passed New Belgium as the 'fastest growing craft brewery' – which is pretty damn impressive. They very successfully executed three key elements of growth: increased product production, increased sales in existing markets, expanded into new markets and states, and also expanded the product line.
What beer trend excited you the most in 2011?
Angelo: Overall growth of the craft beer industry. So many new and innovative breweries. And the small breweries aren't the only ones getting inventive. Deschutes and Widmer are investing a lot into their geek niche audience. It's so pleasant to see this. As far as style trends I think the wild ales are still a big one this year, as is barrel-aged brews, Belgian-style brews, and there has even been a push to highlight more lower abv styles which is great in my book.
Ashley: No time like the present to plug my latest hobby, beer mixology. A relatively new and evolving trend, beer cocktails are popping up on bar menus in most of the big cities and have been quite the buzz amongst the food & beverage writers. As both a beer expert and spirits enthusiast, this trend excites me greatly — so much so that I am launching a site dedicated to it.
I'm right there with you on the lower abv push. As someone who typically does not gravitate towards higher gravity, high alcohol beers, I was also excited to see a swing towards producing more balanced, low alcohol, session beers.
Speaking of session beers, what are 5 of your favorite sessionable beers that you enjoyed in 2011?
Ashley: Moonlight Brewing's Death and Taxes is quite possibly my favorite "session" beer in the world. Other notable session beers I imbibed this year include Ninkasi's Helles Belles, Linden Street's Burning Oak Black Lager, Uncle Billy's Helen Keller, and The Bruery's Hottenroth Berliner Weiss.
Angelo: Burnside Gratzer, Russian River It Takes A Lot of Great Beer to Make Great Wine, Upright Todo Modo, Widmer Himbeer, Bend Ching Ching Berliner Weiss.
Of all the new beers released this year that you have tasted, what three stand out the most?
Angelo: Block 15 Golden Canary crushed it big time for me. I was over to Saraveza everyday when that beer was pouring. The perfect wild ale in my opinion. It had soft tart and creamy notes to it up front and finished with a beautiful breadiness that I look for. Similar to this was Elysian's Mr Yuck, a wild pumpkin ale that poured at the KillerPumpkinFest I organized with the Green Dragon. I really loved Widmers Himbeer Gose when I first tried it at the Fruit Beer Fest in June. A light, tart, fruity, sessionable dandy. I had it again the other night at Roscoe's Pub and the color and flavor from the raspberries in it are divine. My third pick would have to be Ninkasi Sleigh'r or Fort George 1811, possibly even Upright 5 — these are beers I've quaffed tough on, especially the last two, since they are year rounders.
Ashley: Well, naturally I have to plug myself and Bison Brewing on this question. We released some really interesting draft-only beers this year. My three favorite were probably Saison de Wench (a recipe that I helped develop and brew start to finish), Tangerine Trees and Marmalade Skies (a Belgian Tripel brewed with orange marmalade and aged in Bourbon barrels) and the Zeal Island Pale Ale (collaboration beer brewed with New Brew Thursday using only New Zealand hops). Outside of Bison, notable releases this year included Firestone Walker XV, Goose Island's King Henry Bourbon-Barrel Barleywine, Breakside's Gin Barrel-aged Double Wit, Cascade's Sang Noir, Rise of the Fifth Horsemen Saison collaboration beer, and Crooked Stave's Pure Guava Petite Sour.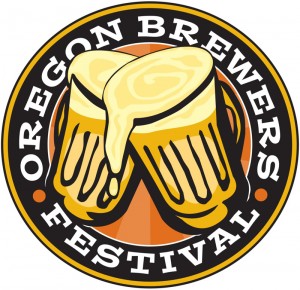 What do you think was the most well-organized beer festival this year?
Angelo: I would have to say that overall the GABF is the most well-organized beer fest of them all based on sheer magnitude. Locally, I would have to tip my hat to the Oregon Brewers Festival, the largest Northwest beer fest.
Ashley: I could not agree more. The Oregon Brewers Fest marked my very first trip to Portland, which in itself made the event a stand out experience. As a brewery rep, this was by far one of the most fun events because the organizers really took care of us. For those unfamiliar with OBF, the brewers had a dinner the night before and a brewers breakfast the day of the kickoff, from which they marched us, in a parade fashion, down to the fest. Outside of this event, I have not heard of any other brewer parades. The event itself was extremely well executed. IDs were checked at the gates and there were several token stations setup around the entrance. Beer pours were paid in tokens, so over-consumption was really well controlled. The weather was also amazing, which definitely helped for the outdoor venue. Major props to Chris Crabb and her possy for awesome event execution!
Speaking of GABF, what were some of your highlights from this year's Great American Beer Festival?
Ashley: This was my first GABF as a brewer, which is an all together different experience than attending as media (or as a volunteer or normal citizen, I'm certain). Bison Brewing entered Saison de Wench in the competition as well as poured it on the floor. I don't think I have ever been prouder to pour beer.
Outside of the fest, though, there were some pretty kick-ass events. The best event I was invited to was a beer dinner co-presented by Top Chef winner and owner of Girl and The Goat, Stephanie Izard, and Jared Rouben, CIA graduate and brewmaster at Goose Island's brewpub in Clyborn. The two collaborated on a beer recipe, which was also released at the event. We were greeted with cocktails and appetizers at the door, followed by, what felt like, a zillion courses of amazing food paired with equally amazing beers.
Lastly, I finally got the chance to meet the Alstrom Brothers, whom up until that point I had no relationship with, unless you count my rather harsh rants against them and Beer Advocate's forum. Meeting the brothers in person completely changed my perception of the men, and I very humbly retract all unfounded statements I had made against them a few years back.
Angelo: GABF highlights were the following: Catching up with friends from Oregon and afar. It was nice to see our great state so well represented. The satellite events at Colorado breweries and pubs were spectacular. Seeing Oregon and Washington brewers win awards was another big highlight for me. It made me proud to  be from this region.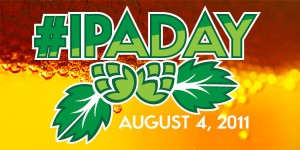 What was the most memorable beer event that you organized in 2011?
Angelo: KillerBeerWeek was a lot of work to organize and quite rewarding. 8 days of great events at 8 great craft beer spots around town. Others included Division Street BrewPubliCrawl, My Beery Valentine and IIPA Fest at Saraveza, as well as Van Havig Night at the Grain & Gristle.
Ashley: Virtually? Or in real life? Virtually, I had a lot of success and support for International #IPADay — a 24 hour virtual celebration of the India Pale Ale, one of craft beer's most iconic styles. Locally, I hosted a very successful IPA Day fest, featuring over 10 local IPA's. We were able to raise nearly 2k for a local LGBTQ charity, which was amazing.
As for exciting and buzz worthy beer events that I organized for Bison Brewing, I think that our most recent Holiday Beer Cocktail event was probably the most fun to organize and execute this year.
What are the top three beer blogs that you regularly read in 2011?
Ashley: You mean, besides BREWPUBLIC?? *wink* Honestly, this is a tough one because I am friends with so many beer bloggers and I would hate to narrow down my list of friends to a mere three. I'm a big fan of Denver Off The Wagon, a collaboration blog focused on the Colorado booze scene. As for my backyard, the Bay Area Beer Bloggers website has an aggregated feed of all the local blogs, which makes it the best comprehensive resource for the SF Bay Area. When it comes to video blogs, New Brew Thursday is my poison of choice. And of course, The Brewing Network is the best audio blog resource for all things craft beer and homebrewing.
Angelo: 2 Beer Guys from North Shore, MA. Those guys keep me updated on all the beer goings on in New England, where I am from. Beervana from Portland, OR. Jeff Alworth is an amazing wordsmith who is a pleasure to read. And number three is the Oakshire Beer Blog. Brewmaster Matt Van Wyk is a talented writer who offers the public insight into the world inside his amazing brewery. Of all brewer bloggers, he's tops.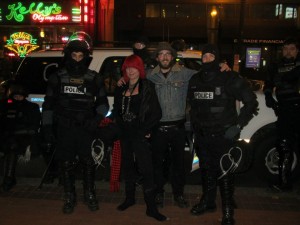 And last but not least, what are the three most memorable things that happened to you this year?
Angelo: 1. Connecting with Ashley Routson aka The Beer Wench. 2. The Month of May. Two of my favorite beer events happened in May: Eugene Beer Week and the Boonville Beer Fest. 3. Working at By The Bottle and Upright Brewing, two of my favorite beer places run by people I love.
Ashley: It might sound extremely cheesy to our readers, but since you already went there, I would have to say that meeting you [Angelo] tops the list. A very important second was finally landing a great job in the craft beer industry after years of struggle and kicking and fighting to get in. Lastly, the launch of International #IPADay, quite possibly the largest social media based craft beer movement, was a major personal success and a big feat for the industry in general.
—————————————————
So many awesome memories and experiences from 2011!! Looking forward to having more in 2012!!! Cheers!!!