San Francisco Beer Week, presented by the SF Brewers Guild, kicks off tomorrow, February 10th. Don't let the word week fool you, SF Beer Week is a 10-day long extravaganza. Stamina is definitely the key to surviving any beer week, especially one as crazy and event-filled as SF Beer Week.
East Bay, South Bay, North Bay — San Francisco isn't the only one getting the action during beer week. So how does one go about choosing which events to go to and which events to pass on?
Being an employee of a Bay Area brewery and a resident with quite the party-girl reputation, many people have been approaching me for advice. What are the hottest, can't-miss events? And where will The Wench be? (Duh., I'll be at the hottest, can't-miss events!)
There are so many great events this year and, whereas I would love to attend every single event on the list, it is physically impossible for me to do so. Here is, however, the list of places that you can most definitely find me during SF Beer Week.
Friday, February 10th
Opening Celebration
Where: Concourse Exhibition Center, San Francisco
Time: 6-10pm
Admission: $55
Sunday, February 12th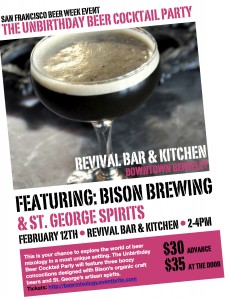 The Unbirthday Beer Cocktail Party
Where: Revival Bar & Kitchen, downtown Berkeley
Time: 2-4pm
Admission: $30 for 3 beer cocktails & light tea party fare
Eventbrite: http://beermixology.com/eventbrite
Summary: This is your chance to experience beer mixology in a most unique setting. The Unbirthday Beer Cocktail Party will feature three unique concoctions crafted using St. George Spirits and Bison Organic Beers. Don't be late for this very important date!
Monday, February 13th

Brews & Booze Threesome
Where: Thirsty Bear Brewery, San Francisco
Time: 6-8pm
Admission: $25 for 4 beer cocktails & light snacks
Eventbrite: http://www.eventbrite.com/event/2843959359
Summary: A sexy cocktail event for consenting adults. Taste a menage-e-tois of local artisanal companies: Bison Brewing, ThirstyBear, & St. George Spirits. Straight spirits and beer tasting also included in price of admission. Additional cocktails available for purchase a la carte.
Wednesday, February 15th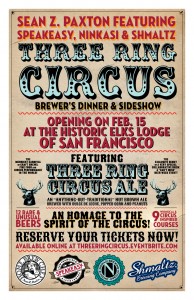 The Three Ring Circus
Where: Elks Lodge No. 3, San Francisco
Time: 6-10pm
Cost: $120
Tickets: threeringcircus.eventbrite.com
Summary: A Brewer's Dinner and Sideshow Presented by Sean Z. Paxton featuring Speakeasy, Ninkasi, and Shmaltz
Thursday, February 16th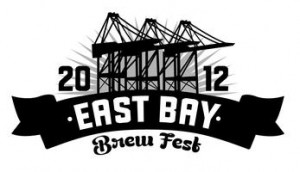 East Bay Brew Fest
Where: Pyramid Ale House, Berkeley
Time: 5-9pm
Admission: $20
Eventbrite: http://www.eastbaybrewfest.eventbrite.com
Summary: Celebrate San Francisco Beer Week East Bay-style by sipping unlimited samples from the best breweries on the east side of the bridge.
Friday, February 17th
Meet the Brewer with Tyler King of The Bruery
Where: Beer Revolution, Oakland
Time: 5-10pm
An Evening with Firestone Walker Brewing Company
Where: The Trappist, Oakland
Time: 6-10pm
(I will be running up and down the street, back and forth between these two events!!)
Saturday, February 18th
Organic Orgy
Where: Thirsty Bear, San Francisco
Time: 4-7pm
Admission: $35
Eventbrite: http://www.eventbrite.com/event/2762311147
Summary: An orgy of California organic beers from all of CA's certified organic breweries with Bison, Butte Creek, Eel River, MataVeza, Napa Smith, Santa Cruz Mountain, Sierra Nevada (Estate Ale), ThirstyBear, Ukiah, Uncommon Brewers. Tray passed appetizers from local organic farms.
Sunday, February 19th
Celebrator 24th Anniversary Bash
Where: Trumer Brewery, Berkeley
Time: 4-8pm
Admission: $50 in advance, $70 at the door
Tickets: http://celebrator.com/anniversary/2012/
Naturally, this list is not the end all be all, and I will most likely make random appearances at several other events during the week. If you are in town and want to join me in my adventures, do not hesitate to shoot me an email: routson@gmail.com or a tweet at me: @thebeerwench! Cheers!