Regardless of city, there are always one or two beer week events worth splurging on. And usually, those events have one person's name on it:
Chef Sean Z. Paxton
Known amongst the beer community as the Homebrew Chef, Paxton is famous for his highly coveted beer dinners featuring obscenely lavish courses paired with some of the rarest beers in the world. In addition to his extrordinary skills in the kitchen, Paxton is also a well-known writer and radio show host, talented brewer, and a loving husband and father.
This year, Paxton teamed up with Speakeasy Ales & Lagers, Shmaltz Brewing Company and Ninkasi Brewing Company to present a SF Beer Week event unlike any to date. On February 15th, the creative quartet will transform the historic Elks Lodge of San Francisco into a merry carnival of craft brews, fine food, and circus performance.
The evening will feature twelve rare and unusual beers paired with a whimsical, circus-inspired 9 course menu, circus performers (okay, carnies), and and the world debut of the Three Ring Circus Ale, an anything-but- traditional nut brown ale brewed with dulce de leche, popped corn and peanuts — the perfect beer for the inner carnie in all of us.
For those of you who have never had the opportunity to attend one of Paxton's dinners, let me speak from experience and say that you are truly missing out on one of the most orgasmic food experiences of your life. And we haven't even began to discuss the world-class, rare beers accompanying the evening. Add in 3 of my all-time favorites breweries and an epic freak show — and you have an event that The Wench herself refuses to miss.
Reserve your tickets ASAP — this must-not-miss, guaranteed-to-be-legendary event will sell out. Trust me, it will be worth every penny.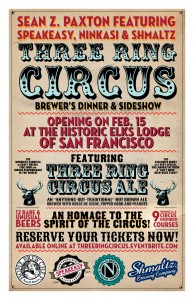 The Three Ring Circus
Where: Elks Lodge No. 3,
450 Post Street #3,
San Francisco, CA 94103
Time: 6-10pm
Cost: $120
Tickets: threeringcircus.eventbrite.com
Summary: A Brewer's Dinner and Sideshow Presented by Sean Z. Paxton featuring Speakeasy, Ninkasi, and Shmaltz