Very few things get my pulse racing quite like new beer releases from my favorite breweries. Especially, when the beers are unorthodox and deviate from traditional beer style guidelines.  The more bizarre a beer, the faster my heart begins to beat. And don't get me started on sours — wild yeast beers trigger spontaneous convulsions and put me in an epileptic state.
If you feel the same way, then you might need to hold on to your seat for this announcement.
SBS Imports is pleased to announce the arrival of the two newest beers in the De Proef line-up, Van Twee Belgian Ale (collaboration with Bell's Brewery) and Witte Noire Imperial Amber Wheat Ale.
Van Twee (translating to "From Both") is the third beer in the Brewmaster's Collaboration Series. Previous collaborations included Signature Ale with Tomme Arthur of Port Brewing/Lost Abbey and Les Deux Brasseurs with Jason Perkins of Allagash. If you have not had the opportunity to try either of these beers, I HIGHLY suggest trying to locate them. SO worth it.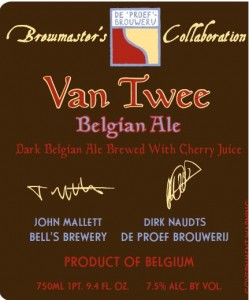 Van Twee was co-designed and brewed by John Mallet of Bell's and Dirk Naudts at De Proef. It is a deep amber-chocolate colored porter dubbel hybrid, with Michigan sour cherry juice and brettanomyces in the secondary fermentation. Layers of rich chocolate and coffee notes are followed by underlying sweet-sour cherry fruitiness with a long finish. It is reminiscent of the famous filled chocolates of Belgium. (It is available in cases of 6/750ml cork-finished bottles and 20L kegs.  Suggested retail price is $16.99 per bottle. Alcohol 7.5% by volume.)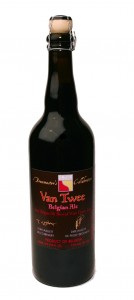 Van Twee thrills me for many reasons. First and foremost, it is a collaboration brew between two of my ALL-TIME favorite breweries — Bell's & De Proef. Secondly, it is brewed with the love of my life … BRETT (aka: Brettanonomyces, a strand of wild yeast). One of the most interesting aspects of this beer is the "mash-up" of the porter and dubbel styles — this is the first time I've ever heard of such a blend. And to top it all off, they threw in some sour Michigan cherries. In my opinion, Van Twee sounds like a chocolate-covered cherry explosion. I'm extremely pumped up to try this beer.
Witte Noire Imperial Amber Wheat Ale is another unique style interpretation created by SBS' President Alan Shapiro along with Brewmaster Dirk Naudts. Witte Noire is a companion to the highly acclaimed La Grande Blanche Imperial White Ale, blending darker malts along with wheat in the grain bill. Witte Noire is a rich chestnut brown color with a full tan head. It features light roasted porter-like notes on the front pallet followed by a round, soft middle. Clove-like spice notes dominate the elegant finish. It is perhaps a Belgian interpretation of the classic wheat doppelbock beers of Germany.  (Witte Noire is available in cases of 6/750ml cork-finished bottles, with a suggested retail price of $9.99.  It is 7.5% alcohol by volume.)
"Our goal with both the Brewmaster's Collaboration and Brewmaster's Collection series is to bring products of unique taste profiles to discerning Belgian beer enthusiasts," noted Shapiro.  "I believe these beers are exceptional additions to De Proef range available in the U.S."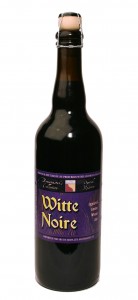 The De Proef Witte Noire strikes me as the perfect winter warmer and an magical pairing with the heartier harvest ingredients & spices in typical autumn and winter dishes. I predict Witte Noire being a hit at Holiday parties. In fact, I think I'll bring it to Thanksgiving dinner at my friend's house!
Other noteworthy De Proef beers include:
ABOUT DE PROEF
Highly regarded Belgian brewing engineer and professor, Dirk Naudts, founded the De Proefbrouwerij in 1996.  He crafts each batch in an 11HL (9 U.S. barrel) brewhouse that blends state-of-the-art technology with traditional methods.  Prior to creating DeProef, Naudts was the Brewmaster at Roman Brewery in Oudenaarde, Belgium and Brewmaster at the prestigious St. Lieven brewing program in Gent, Belgium.
ABOUT SBS IMPORTS
SBS Imports is based in Seattle, Washington and was founded by specialy beer industry veteran Alan Shapiro in 2002.  IN addition to De Proef, SBS also imports Aspall Cyders from Suffolk, England and Batemans Ales from Lincolnshire, England.  More information is available at www.sbs-imports.com.