I must apologize for leaving you all hanging on the San Diego beer week updates. I've recently been plagued with a series of unfortunate events and have fallen off of the Internet map.
So where were we?
I last left off with the score: San Diego = 1. The Wench = 0. Truth be told, San Diego kicked my butt on my first day of beer week. The combination of going to sleep at 7:30AM and drinking high-gravity beer for 16 hours straight did me in.
After about 4 hours of sleep, I was awakened by the smell of bacon and sound of voices coming from the kitchen. Never one to to down bacon (or pork products for that matter), I dragged my tired, hungry & dehydrated body into the kitchen. Much to my delight, another Twitter obsessed beer geek friend of ours had just arrived from the L.A. area. Unfortunate for him, his first real life impression of The Wench was a bit ugly.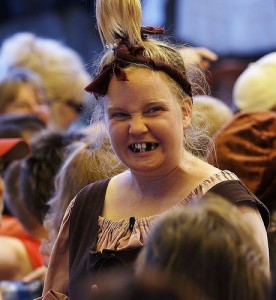 But, even a massive hangover could not hold me back from San Diego beer week. And so we rounded up our ever-growing crew of Twitter beer geeks for some more beer adventures. After filling myself up on bacon, eggs and buttery biscuits from my big sis Taylor and chugging down some Duck Duck Gooze compliments of Alex, The Wench was almost ready to put the "game face" back on.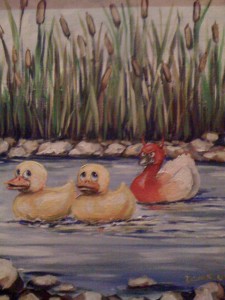 This time, we were smart about it and chartered a shuttle van. Which was actually relatively cheap and easy to do. The Beer Van's first stop was, yes you guessed it, Stone Brewing Co. Although Firestone Walker was set to "officially" launch their latest cult beer — the 13th Anniversary Ale — on November 14th, the magical Dr. Bill used his Don Juan skills to persuade them to tap it a night early at Stone. It made more sense anyways tapping the Firestone Walker 13th on Friday the 13th.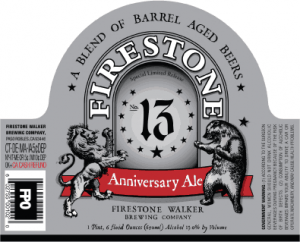 Word of the special release spread like wild fire and Stone had a tremendous beer geek turnout for the event. Firestone Walker stepped up to the challenge and not only tapped its 13th Anniversary, but also tapped its 12th Anniversary side by side. A lucky few also got to sample the bottle conditioned 11th.
Before anyone was allowed to taste the 12th and 13th, we were first primed with the original beers that were blended to create the 13th. But, I'm getting ahead of myself. In order to understand the beer, you need to know more about Firestone first.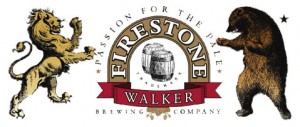 Since its birth in 1996, Firestone Walker has been specializing in the "rare" art of brewing beer in oak barrels. On it's 10th birthday, Firestone Walker created the first of its Anniversary series — The 10. For the special release they created a Barrel Aging and Blending Program, which they refer to as "Quercus Alba" (which means White Oak, FYI).
THE VISION BEHIND QUERCUS ALBA
The GOAL: To create complexity centering on oak, in a multitude of forms, by brewing high gravity beers in complementary styles, aging them in different barrel formats and then blending them together to achieve harmonious new flavors.
The PUZZLE: To blend these various components (or lots) to create a synergistic whole that is greater than the sum of its parts. This is done with the help of a few neighboring Paso Robles winemakers who are practicing experts in the art of blending.
The INSPIRATION: Firestone Walker's oak brewing tradition and connection to winemaking. Of course until the advent of stainless steel, brewing was intimately linked to wood barrels and vessels. Brewing has a deeply rooted history in the alchemy of blending.
The BARRELS: The individual lots were aged in oak barrels, many of which were hand selected from premium Kentucky spirits producers by Tom Griffin, who is extremely passionate and knowledgeable about bourbon barrels and beer. Each barrel lents its own influence to the final blend.
So shall we talk about the beer?
THE COMPONENTS OF FIRESTONE 13th:
39% of final blend = PARABOLA (13% abv) — Russian Imperial Oatmeal Stout aged in bourbon barrels
15% of final blend = VELVET MERKIN (6% abv) — Traditional Oatmeal Stout aged in bourbon barrels
6% of final blend = RUFUS (11% abv) — Continental Imperial Amber Ale aged in rye barrels
4% of final blend = SAUCERFUL OF SECRETS (9%abv) — Belgian Strong Ale aged in bourbon barrels
24% of final blend = BRAVO (11% abv) — Imperial Brown Ale aged in 50% bourbon barrels and 50% in brandy barrels
6 % of final blend = OPAL (11% abv) Wheat Wine aged in rye barrels
6 % of the final blend = DOUBLE DOUBLE BARREL ALE (10.9%) — Double English Pale Ale aged in 100% in retired FW union barrels
Most of us started the night out with Parabola, which made it hard to move onto anything else. After all, it was definitely the biggest and boldest of all the beers on tap that night. Parabola was thick, rich & viscous with lots of hints of vanilla, oak, toast & bourbon. It was a very warming beer, without the alcohol being too potent.
While we waited for the special tapping of the 13th Anniversary, the group of us chowed down on several of the items from the Stone World Bistro & Gardens menu. The highlight was, hands down, the beer mac & cheese — tender macaroni, Stone Porter Cheese, sun dried tomatoes, basil, Stone Smoked Porter Sausage  topped off with some baked bread crumbs. In one word -orgasmic.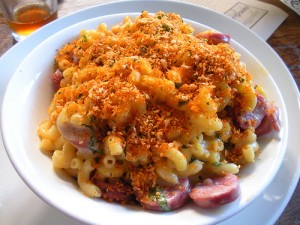 As I mentioned earlier, the event had a tremendous turnout. There were many "celebrity" beer and twitter personalities in the "house" that night. These included: Greg Koch (CEO of Stone), Dr. Bill of Stone Brewing Co., several members of the Firestone Walker team, Stephen Johnson of New Brew Thursday (and his wife), my big sister Taylor Shaw, PJ Hoberman of Starting a Brewery, Kristen & Marin Emde of GoBeering.com, adorable homebrewers Renee & Jordan Rounds, beer connoisseur Alex P. Davis, talented photographer Declan, JJ Bagley of Mutineer Magazine, Chris Richards of Six Palms Entertainment and many others I cannot recall at this moment.
Declan did an excellent job of capturing the party on his camera. According to Greg Koch, I totally rocked the camera in this pic:
However, I think that the best photo in the bunch is the one of Alex P. Davis and I rocking the "too cool for school" Top Gun look. Rock. Stars.
I also had the honor of meeting more of of my Twitter friends at the Firestone Walker 13th event at Stone Brewing Company — including (but not limited to) @BrewBud, @IPABev and @BeerMark.
Ultimately, the Firestone 13th and 12th were tapped. A line of beer lovers desiring to be among the first to taste the 13th wrapped around the bar area. Being the lazy line hater that I am, I procrastinated getting on line. But when I realized that the line was not going to die down anytime soon, I bit the bullet and joined PJ in line — with some "line" beers in hand, of course.
The verdict? Both the 13th and 12th are extremely complex beers with multiple levels of flavor. At the time, I preferred the 12th. But this does not mean the 13th was bad, by any means. In fact, it rocked. With a little bit age, the 13th can only get better. By the looks of it, I think Stephen (New Brew Thursday) enjoyed both of his Firestone Anniversary beers …
The original plan was to follow the Firestone Walker 13th event up with a Stone Brewing Co. dinner at Kitchen 1540 at the L'Auberge resort in Del Mar. Unfortunately, unforeseeable and very understandable circumstances (including sickness) prevented Chef Paul McCabe from being available for the dinner — and the event was cancelled. I was bummed that I did not have the chance to meet Chef McCabe, but then I completely understand his situation and agree whole heartedly with the decision. And who knows, maybe Chef McCabe was lucky not to have met me — as I have a reputation for being a predator and "groupie" of extremely talented chefs.
A big group of us were planning on attending the Kitchen 1540 dinner and, in lieu of completely forfeiting the event, I approached Greg Koch about organizing a substitution dinner. Greg was able to track down a substitute option — a 3 course Stone pairing menu at Suite & Tender in downtown San Diego. Lucky for us, Suite & Tender was willing to accommodate a last minute reservation for 17.
After a fantastic time at the FireStone Walker event. The Beer Van headed back downtown for a private beer dinner with Greg Koch. The pairing menu was pretty impressive. We were given two choices on three of the pairings. Being that both choices sounded amazing, it was hard to chose. So instead of choosing, Alex & I decided to order one of each course and split them.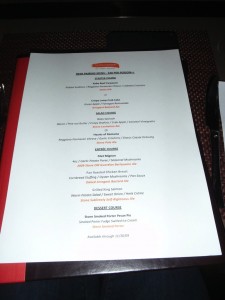 The Menu was as follows:
FIRST COURSE
Fish Tacos w/ Stone IPA
Crispy Lump Crab Cakes w/ Stone Arrogant Bastard Ale
SECOND COURSE
Baby Spinach Salad (BACON, pine nut butter, crispy shallots, crab apple & caramel vinaigrette) w/ Stone Levitation Ale
Hearts of Romain Salad (parmesan cheese, garlic croutons, anchovies & caesar dressing) w/ Stone Pale Ale
THIRD COURSE
Filet Mignon (garlic mashed potatoes, seasonal mushrooms) w/ 2009 Stone Old Guardian Barleywine
Grilled King Salmon (warm potato salad, sweet onion, herb creme) w/ Stone Sublimely Self-Righteous Ale
There was one other option, but Alex and I passed on it:
Pan-roasted Chicken Breast (cornbread stuffing, oyster mushrooms, pan sauce) w/ Stone Oaked Arrogant Bastard Ale
FOURTH COURSE
Stone Smoked Porter Pecan Pie & Smoked Porter Fudge swirled ice cream w/ Stone Smoked Porter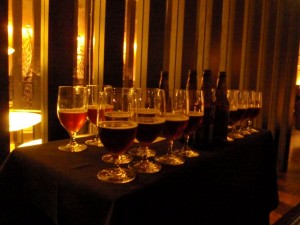 The service and presentation of the dinner was slightly unusual yet, despite the last minute notice, it was executed pretty well. The food was extremely tasty — although, it was a group consensus that the beer pairings were a bit off. Not really sure what the method in the madness behind the beer — food pairings was, but at the end of the day I left the dinner stuffed to the brim with great beers and food. So, can't really complain!
After the dinner, the group dissipated. A few people went back to Taylor's place for a few beers. I joined Greg for a nightcap before returning to Tay's pad. By the time I returned, everyone was asleep. Which was probably for the better since we had a big day of beer ahead of us starting the next morning. And so to bed The Wench went, with visions of Green Flash and rare beers in her head.
San Diego = 1 … The Wench = 1
Stay tuned for ROUND 3 of San Diego Beer Week! CHEERS!