Those of you who live under a rock or on Mars may not be aware of my
Dogfish Head
obsession. Well have no fear, because I am more than happy to elaborate on it.
In many ways, I attribute my passion for craft beers to Dogfish Head. Dogfish Head is indirectly responsible for my becoming a beer writer as well as one of the main reasons I am pursuing a career in the industry today.
I fell in love with Dogfish Head four years ago while managing a restaurant in Columbus, OH. My first real "beer epiphany" was with Dogfish Head
Midas Touch
. Being a bigger wine geek at that point, Midas Touch completely turned my beer world upside down.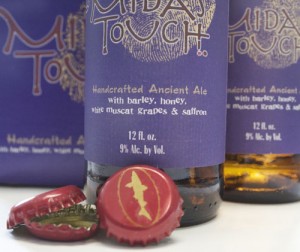 A good friend of mine gave me a copy of Sam's "Brewing Up A Business", which inspired me to grab the world by the horns and go after my dreams (and travel all around the country in pursuit of beer experiences). In fact, the book inspired me so much that I quit my job and moved to various corners of the country in pursuit of a beer industry career.
One of my major moves made it possible to tour the new
Dogfish Head brewery
in Milton and grab dinner and beers at the
brewpub
in Rehoboth Beach. That was one of the best days of my life.
My personal way of welcoming the new year (2009) was writing a reflective post about the 3 most influential people on The Beer Wench (
both blog and person
) in 2008. I called the it
The Wench's Men of 2008
. Dogfish Head's Sam Calagione took the third spot on the list.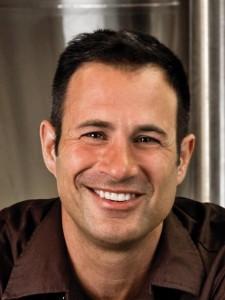 My life became complete this past September when I met Sam Calagione for the first time during the Great American Beer Festival. Being that Sam is one of the most sought after beer personalities in the industry, it was virtually impossible for me to get any real face to face time with him during the largest U.S. craft beer festivals.
Now, I know what you are probably thinking. Sam is a very good looking guy — often referred to as the "Keanu Reeves" of the beer industry. But this is not the reason why I'm obsessed with Dogfish Head. I'm obsessed with Dogfish Head because I can identify so well with its brand and its story. Like Dogfish Head beers, I'm off-centered, eccentric, abnormal and extreme.
Dogfish Head was chosen by Sierra Nevada for its first ever collaboration beer —
Life & Limb
. And as fate would have it, they decided to host the official release party in San Francisco — a hop skip and a jump from where I currently live. Prior to the event, I contacted
Mariah Calagione
on Twitter requesting an opportunity to interview Sam at the dinner. She was able to set it up for me.
I made sure to fully charge my HD video camera before the dinner. What I forgot to do was turn the camera off. And unfortunately, when I arrived at the dinner my camera was dead. So I had to resort to using a FLIP camera, which was not ideal. But what can you do?
I understand that the video is long, by "internet" standards. In my opinion, although I'm not particularly interesting (or visually appealing) to watch, Sam is a great interviewee and has given me 19 minutes of compelling material.
Without further ado, I present The Wench's Interview with Sam Calagione!