DRINK WITH THE WENCH PRESENTS:
The Beer Blogger Interview Series
Curious what goes on in the minds of your favorite beer bloggers? Well, The Beer Wench is and she has embarked upon a mission to interview as many beer bloggers that she can — from all over the world. Are you a beer blogger? Do you want to share your story? Send me an email!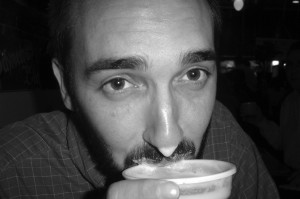 INTRODUCING: AARON CHAMBERLAIN
AUTHOR OF: CRAFT AUSTIN
Beer Blogger Interview
Full name: Aaron Chamberlain
Twitter handle: @elmachuca
Name of blog: Craft Austin
Current location: Austin, TX
Background "Snapshot"
1. Where did you grow up?
Born in Lancaster, PA. Raised in Orlando, FL.
2. What sports if any did you play growing up, through college and beyond?
Swimming, Diving and Water Polo through HS. Skateboarding for 15 years.
3. How old were you when you had your first beer?
I think 16, in the tenth grade.
4. If you can recall, what is the story of your first beer? Where did you have it? What style and brand was it?
Bud Light was my first beer. We used to keep our beer hidden in the orange groves in and around Windermere, FL. On the weekends we would retrieve any beers that were left and drove out to Disney's Boardwalk. There we would drink the beers in the bushes and try to talk to girls. Oh youth.
5. Where, if applicable, did you go to college? What did you study? What additional activities, organizations, sports did you partake in during college?
I went to Mississippi College in Jackson, MS. In a town with nothing to do, we went to New Orleans a lot. That's about it.
Craft Beer Epiphany
Every craft beer enthusiast has at least one pinnacle craft beer experience that completely changes ones perspective on beer. I refer to this mind-blowing moment as a "craft beer epiphany."
1. What was your first craft beer epiphany? Recall as many details about it as you can:
The short story is Brooklyn Lager. That's really short, barely a sentence. Actually I should say Brooklyn Lager and the Gate. The Gate is a beer bar in Park Slope, Brooklyn. We lived in Brooklyn from 2003 to 2007. Before moving to Brooklyn, I'd say my tastes for beer were rather pedestrian. The beeriest beer I would drink was maybe a Guiness or Murphys Stout. Anyway we moved down the block from the Gate, where for a couple months all I drank was Brooklyn Lager and it was a slippery slope from there.
2. Have you have additional craft beer epiphanies since the first? Detail as many of them as you wish:
Not really, but I do remember hating Sierra Nevada Pale Ale, which seems crazy now. Usually things with me are more gradual. As with sours/wild ales. I can't remember a time thinking all of a sudden "Damn, this sour is bloody delicious. This makes sense to me now." It happened slowly over many pints.
Beer Blog Background
1. How long haves you been writing your beer blog?
Since March 2008.
2. What inspired you to start writing your blog?
My wife and I have had a blog since about 2006 I think. It got to a point where I was blogging about beer 2-3 times a week, so I decided to branch off the beer stuff into its own blog.
3. Why did you chose the name of your blog?
Craft Austin, nothing spectacular. Craft beer going-ons in Austin. Unoriginal, I know.
4. What are you personal goals for your blog? What do you hope to achieve with it?
I hope to get more readers, maybe some longer posts, although that is not really my style. Truthfully, it's probably gone as far as it can. I am the least ambitious blogger out there. I just like doing it, if I don't make a dime off it…fine. A free beer here and there….awesome.
5. What is one of the coolest things that happened to you as a result of being a beer blogger?
Having Josh from the Draught House (favorite Austin brewpub/beer bar) tell me he reads my blog.
6. What are you top 3 favorite beer blogs/beer websites?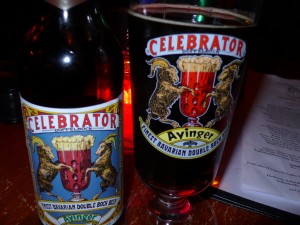 Beer Talk
1. What are your top 3 favorite beer styles?
Hefeweizen, Helles, IPA – this week.
2. What are your top 3 favorite breweries?
Ayinger, Brooklyn, (512) Brewing – this week.
3. If you could work with or for any one brewery, which one would it be and why?
Ayinger, because they make Celebrator. The whole German language thing would be rough though.
4. Are you a homebrewer? If yes, what is the most unique and interesting beer recipes you've brewed as a homebrewer?
No, but my wife wants to start homebrewing. She's nuts.
5. Do you have any beer certifications (BJCP, Cicerone, Siebel, American Brewers Guild)?? If so, what are they?
No.
6. What is your favorite beer and food pairing?
Who knows….I could never narrow it down. The first thing that comes to mind: Bonnie's Grill (Park Slope) burger and fries and Blue Point Toasted Lager.
The Personal Side
1. What is your current day job?
Print Production Coordinator at magazine publisher here in Austin.
2. If you could change your career at this very moment, without any restrictions on what you could do, what would you want to do and why?
Brewery owner in the Texas hill country, with a large skate park. And I'd have visiting brewers, releasing small, special batches.
3. Are you married? Children?
Yes, Sofia and I have been married for six years. We have a six month old son, Santiago.
4. Outside of beer and writing, what are some of your other hobbies?
Skateboarding. Emailing myself recipes from Epicurious that I will never cook.
Off The Beaten Path
1. If you were a style of beer, what style would be an why?
Old ale, because hopefully I am getting tastier with age.
2. You were caught smuggling beer illegally, which has now been made punishable by death. Right before you are sent to the executioner, you are offered one last beer. What beer would you chose and why?
I'd want something crappy, welcoming death. Miller lite, let's get it over with already. Kill me now.
3. If I contracted you to brew a beer (or design a beer recipe) called "The Beer Wench" — what style would you chose and what, if any, extra ingredients would you add?
Bacon Blonde, duh.
4. If you could be a superhero, what would you want your superpowers to be?
Kickflips like Andrew Reynolds or maybe 360 flips like Geoff Rowley.
5. What is one of the craziest things you have ever done and lived to tell the story?
Every morning I wake up before 8am. Not suggested. Seriously, every time I go skateboarding. I fall hard. A lot.
6. What are your thoughts on bacon?
It tastes good. www.baconslut.com
SPECIAL THANKS TO AARON FOR AN AWESOME INTERVIEW!
CHEERS!