DRINK WITH THE WENCH PRESENTS:
The Beer Blogger Interview Series
Curious what goes on in the minds of your favorite beer bloggers? Well, The Beer Wench is and she has embarked upon a mission to interview as many beer bloggers that she can — from all over the world. Are you a beer blogger? Do you want to share your story? Send me an email!
INTRODUCING: JAY BROOKS
AUTHOR OF: BROOKSTON BEER BULLETIN
Beer Blogger Interview

Full name: Jay R. Brooks
Internet nickname: Brookston
Twitter handle: Brookston
Name of blog: Brookston Beer Bulletin, also Real Beer's Beer Therapy and the Bay Area Newsgroup's Bottoms Up Blog.
Current location: Novato, Marin County, Bay Area, California, Earth
Background "Snapshot"
1. Where did you grow up?
Just outside Reading, Pennsylvania (the first railroad in Monopoly) in a sleepy little town called Shillington, famous only as the birthplace of Pulitzer prize-winning novelist John Updike.
2. What sports if any did you play growing up, through college and beyond?
In high school I played on the tennis and golf teams, but worked my way through college so there was no time for sports. My all-time favorite sport is table tennis, though I'm a big fan of Frisbee Golf and Washoes, too.
3. How old were you when you had your first beer?
Somewhere my very early teens, around 10 or 12, my mother bought me "Near Beer," as mis-named a product as ever existed. It was essentially an N/A beer for kids and boy, was it horrible.
4. If you can recall, what is the story of your first beer? Where did you have it? What style and brand was it?
Shortly thereafter, I had my first "real" beer, a Yuengling no less, one summer during Junior high at Church Camp. The whole sordid story is part of Chapter 12 of "Under the Table," my semi-fictional memoir of growing up with beer. It's on-line in rough draft because I wrote it in 30 days as a part of NaNoWriMo (National Novel Writer's Month) in 2006.
5. Where, if applicable, did you go to college? What did you study? What additional activities, organizations, sports did you partake in during college?
I didn't go straight to college after high school, primarily because my family couldn't afford to send me to the schools I'd been accepted to. So when I turned 18, several months before graduation (in 1977), I joined the U.S. Army and the following fall began my three years stationed in New York City playing sax and clarinet with an Army Band.
I took classes at a music school in New York, Mannes College, but after my military time returned home to Reading, PA and finished my degree at Alvernia College with a B.S. in Communications. After I moved to California in 1985, I also took graduate classes at San Jose State but never finished the master's program. I've also done the short course on brewing at UC Davis.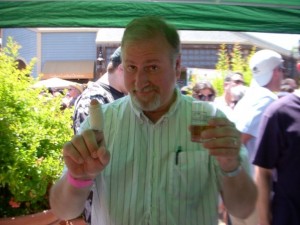 Craft Beer Epiphany
Every craft beer enthusiast has at least one pinnacle craft beer experience that completely changes ones perspective on beer. I refer to this mind-blowing moment as a "craft beer epiphany."
1. What was your first craft beer epiphany? Recall as many details about it as you can:
For me, my epiphany wasn't necessarily craft driven because it happened before there was craft beer. I grew up drinking regional lagers and a few cream ales that were largely interchangeable. Going to jazz clubs in Manhattan while in the service, I discovered newly imported beers like Bass Ale, Guinness and Pilsner Urquell, beers very different from what I was used to back home.
From that experience, I began seeking out different beers wherever I could, including a bar in the East Village — Brewski's — that carried over 100 imported beers. Michael Jackson's second book, his "New World Guide To Beer," was published while I was living in New York and it was revelatory, too.
For a fuller account, see Chapter 23 of Under the table, and I also wrote about it for Session #15
2. Have you have additional craft beer epiphanies since the first? Detail as many of them as you wish:
There were probably many since moving to California in 1985, just when the microbrewery revolution was getting underway. Drinking Anchor's Liberty Ale for the first time, doing a vertical of Anchor Christmas Ale back into the 80s, ditto Thomas Hardy and Alaskan Smoked Porter, among others. Visiting Traquair House in Scotland and Cantillon; Barrel tasting at Russian River.
The list goes on and on. In part, that's what keeps me going.
Beer Blog Background
1. How long have you been writing your beer blog?
I originally started blogging in late 2004, though at that point it wasn't primarily about beer. The Brookston beer Bulletin in roughly its present form was set up at the end of 2005 and I started writing it in earnest at the very beginning of 2006.
2. What inspired you to start writing your blog?
In the fall of 2004, I left my job as the GM of the Celebrator Beer News when we learned that my son, Porter, was autistic. He was three and still was barely talking. When we found out what was going on, I quit working full-time to be home with him. When I found myself giving the same answers to the same questions about him from friends and relatives, I started a family blog so people could read about his progress. It included everything the family was up to, which naturally included beer, too. After a year or so, Porter's progress was remarkable and I felt I could start taking on more work (I'd continued to do the blind panel tastings at the Celebrator) and began looking for more freelance work. I also decided to start a separate beer blog as a part of that decision.
3. Why did you choose the name of your blog?
I already had the domain name "Brookston.org" which I had been using for the family blog. Though my name is Brooks, I consider my family name to be "Brookston." My wife's last name is "Johnston," and when we got married our original intent had been for us both to change our names to "Brookston," combining the two. But laziness set in, and we never got around to it. When the kids were born, it seemed natural to make their legal last names Brookston. I'm also a big fan of alliteration, so Beer Bulletin made it complete.
I know you didn't ask, but I do get a lot of questions about my logo.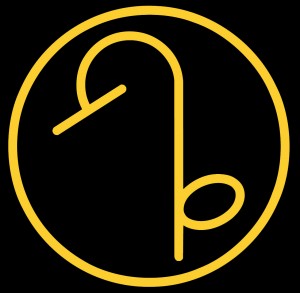 The most common misidentifications for it include showerhead and fishing rod. I found it trolling the Internet looking for something appropriate to adapt for a logo. It's based on the symbol for the Babylonan god Marduk, who was a Sun God, though he eventually became the primary or chief diety in later Babylonian times. He was also associated with brewing and was a Beer-Brewing God who had many symbols and fifty names.
This one, believed to be the earliest symbol for beer and brewing, is a stylized tool used for spreading grain in the anicient brewing process. The rounded part was a handle and you spread the grain out to dry and evened it out using the flat blade at the upper left. And if you look closely you'll see by initials, "B" and an upside down "J" so it's seemed ideal for my purposes.
4. What are you personal goals for your blog? What do you hope to achieve with it?
I think the original goal was to track what was going on in the beer world as a way to put together stories to pitch, but the blog really began taking on a life of its own. It has to led to paying work as I had hoped, but I'm continually surprised by how many people tell me how much they enjoy and regularly read the Bulletin. That's been very gratifying and helps keep it fun.
5. What is one of the coolest things that happened to you as a result of being a beer blogger?
Hearing that lobbyists in Washington, D.C. were aware of the Bulletin and had been influenced or informed by it.
6. What are you top 3 favorite beer blogs/beer websites?
That's a hard question. There are a lot of other writers I admire working in the blog format. Picking three forces me to leave out a number of authentic voices, but I'd say Stan Hieronymus, Lew Bryson and Stephen Beaumont's online stuff are must reads.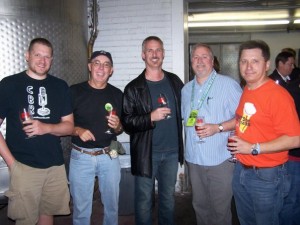 Beer Talk
1. What are your top 3 favorite beer styles?
Another difficult question, as I love virtually all beer and rarely limit myself, preferring to match what I'm drinking to what I'm eating, what the weather is like or what mood I'm in. My favorite broad kinds of beer include hoppy beers, sour beer and anything very complex, particularly barley wines.
2. What are your top 3 favorite breweries?
Another impossible question, there are just so many great ones. Anchor certainly, because they were so important to the early days of craft beer. I love Cantillon, too, for their history and for keeping authentic lambic alive. Number three is everybody else.
3. If you could work with or for any one brewery, which one would it be and why?
Unless I was desperate for work, I wouldn't want to work for any brewery. I just wouldn't want to tie myself down. That's one of the reasons I love what I do.
4. Are you a homebrewer? If yes, what is the most unique and interesting beer recipes you've brewed as a homebrewer?
Not anymore. I did homebrew for about three years back in the late 80s, but don't anymore. I wasn't very good and didn't brew all-malt or anything too adventurous. Plus there were just too many great things the professionals were doing. I'm planning on starting again in a few years, when Porter turns 10. Then we'll start homebrewing together as a father/son project.
5. Do you have any beer certifications (BJCP, Cicerone, Siebel, American Brewers Guild)?? If so, what are they?
I've done the short course at UC Davis to help write about the technical brewing details more accurately. I've also attended Hop School and done the sensory course at Siebel twice, but that's it. I started doing this so long ago that it doesn't seem to make sense to go through the process of any certifications at this pint.
6. What is your favorite beer and food pairing?
Cheese and beer.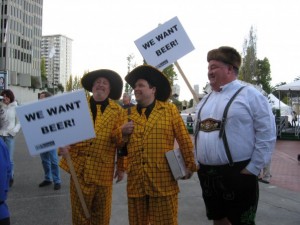 The Personal Side
1. What is your current day job?
This is my day job, writing about beer. I work from home and also take care of the household and my two kids, while my wife works outside the home at a normal job. I write a bi-weekly syndicated column, Brooks on Beer, for the Bay Area Newsgroup, which runs in at least six papers. I also contribute articles to most, if not all, of the beer periodicals along with a few general circulation ones from time to time.
In addition to the Brookston Beer Bulletin, I also constitute to Real Beer's Beer Therapy and write the beer portion of the Bottoms Up blog, maintained by the newspaper group I write for.
My first book involving beer was published in 1992, "The Bars of Santa Clara County, A Beer Drinker's Guide to Silicon Valley." I've also contributed to several others, including "1001 Beers You Must Try Before You Die," which will be published next March. I'm currently working on several additional book projects, some alone and a few as collaborations, and am in development with another project that I can't yet talk too much about.
2. If you could change your career at this very moment, without any restrictions on what you could do, what would you want to do and why?
I don't think I'd change much, perhaps I'd write about more diverse topics, but I love what I'm doing. Writing at this point feels like something I have to do, not just something I want to or enjoy doing. It would be great if it was more valued by society and paid better, but c'est la vie.
3. Are you married? Children?
Yes squared. I've been married to my wife Sarah for almost 14 years, and we have two children, Porter (who's 8) and Alice (who's 5).
4. Outside of beer and writing, what are some of your other hobbies?
I collect View Master reels and take 3D photographs, making my own View Master reels. I read a lot and am interested in most topics. I love to learn about as many things as possible, the more arcane, the better. I listen to a lot of music and watch a lot of films, though with kids I don't get out to the theater as much as I'd like. I also have too many little obsessions than I could list here. For example, I'm obsessed with clothespins, frites and potato chips, and art, to name but a few.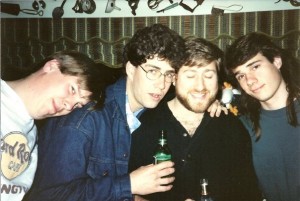 Off The Beaten Path
1. If you were a style of beer, what style would you be and why?
I'm probably a sour beer, because I'm a maladjusted curmudgeon at heart and almost always seem out of step with my peers. Also, drink too much of me and you'll start laughing, too.
2. You were caught smuggling beer illegally, which has now been made punishable by death. Right before you are sent to the executioner, you are offered one last beer. What beer would you chose and why?
Either a Bass No. 1 from 1900 or a Thomas Hardy 1977.
3. If I contracted you to brew a beer (or design a beer recipe) called "The Beer Wench" — what style would you chose and what, if any, extra ingredients would you add?
Something unique, very well-carbonated and effervescent (or bubbly) with bright gold color and a fluffy white head. A perfumed nose and sweet malty character with a finish that lingers pleasantly long after it's gone.
4. If you could be a superhero, what would you want your superpowers to be?
I wish I had a crazy sensitive nose that could identify where the malt was grown or what the brewer had for breakfast the morning he brewed that batch. That would be fun, if for no other reason than to finally identify the exact spices Anchor's used in their Christmas Ale over the years.
5. What is one of the craziest things you have ever done and lived to tell the story?
Geez, this is a little sad, but I don't think I've ever done anything particularly crazy, not really crazy anyway. I had a friend who lived in the Marina when the 1989 Loma Prieta earthquake hit. Her apartment building was one of those ones that was in Time magazine leaning to one side, after the basement garage had collapsed, putting the second floor on the ground.
Over a dozen residents and their friends, myself included, snuck around the police, jumped over fences in back yards and into the back windows of the apartment with trash bags, grabbing what we could in shifts. Walking on the upper floors felt like we were moving on shifting sands. And the ever-present threat of aftershocks made adrenaline pump through our bodies to combat intense fear. That was a rush, so to speak. I definitely needed a beer after that experience.
6. What are your thoughts on bacon?
Hmmmm, bacon …. Isn't that one of the four food groups? Ask me where to get a peanut butter pizza with bacon topping? I have a bacon obsession, too.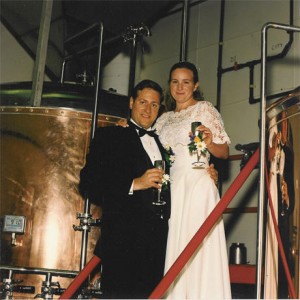 SPECIAL THANKS TO JAY — ONE OF THE BEST AND MOST RECOGNIZABLE BEER BLOGGERS — FOR HIS AWESOME INTERVIEW!
CHEERS!