DRINK WITH THE WENCH PRESENTS:
The Beer Blogger Interview Series
Curious what goes on in the minds of your favorite beer bloggers? Well, The Beer Wench is and she has embarked upon a mission to interview as many beer bloggers that she can — from all over the world. Are you a beer blogger? Do you want to share your story? Send me an email!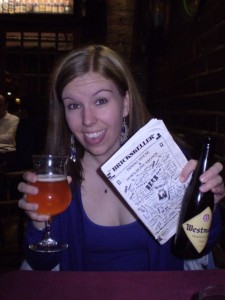 INTRODUCING: JENN PROSSER
AUTHOR OF: JENN AND BEER
Beer Blogger Interview
Full name: Jenn Prosser
Twitter handle: @jennandbeer
Name of blog: Jenn and Beer
Current location: Denver, CO
Background "Snapshot"
1. Where did you grow up?
Denver. I'm one of those proud-to-be-native Colorado types.
2. What sports if any did you play growing up, through college and beyond?
I swam, played soccer and softball, horseback rode (that sounds odd in the past tense), snowboarded and skied. I sucked at team sports, though.
3. How old were you when you had your first beer?
I have much older brothers, so my first sip of beer was when I was a kid — family gathering "ooh, what's this" type experience, you know… My first real beer was when I was 15.
4. If you can recall, what is the story of your first beer? Where did you have it? What style and brand was it?
My first beer wasn't that interesting, but one of my first was during the summer I turned 16. My parents took my brother Timothy and me to Ireland for a two week road trip. Timothy, again, is much older than I and was beyond excited to introduce me to Guinness, which is his favorite beer. One of the first stops on our trip was St. James Gate, the home of Guinness. I looked too young for them to serve me my own beer, but my mam shared her pint with me. A pretty great experience for a teen.
5. Where, if applicable, did you go to college? What did you study? What additional activities, organizations, sports did you partake in during college?
I did a year at Boston University, but all I really took from that experience was a hatred for their rivals (Boston College) and a passive love for the Red Sox. After that I returned to Ireland for college. I studied journalism at Dublin City University. I played Ultimate Frisbee at DCU, but, again, I suck at team sports. My other big activity during college was a lot of traveling — if you're going to live in Europe for four years, you might as well take advantage of the really cheap flights to nearby countries.
Craft Beer Epiphany
Every craft beer enthusiast has at least one pinnacle craft beer experience that completely changes ones perspective on beer. I refer to this mind-blowing moment as a "craft beer epiphany."
1. What was your first craft beer epiphany? Recall as many details about it as you can:
Usually, I refer to this story as how I lost my beer-virginity, but I suppose "craft beer epiphany" is a bit more appropriate. Being a proud Coloradan, I was well aware of how great our beer scene was, and expected to indulge in it once I turned 21. The beer available in Ireland is, well, really boring and not that good. I assumed that there were beers out there that I would like, but hadn't really found them.
The winter I was 19, my boyfriend at the time had just turned 21. We went up to the mountains for a weekend with my parents and they said they'd buy him some beer to bring with us. He requested New Belgium's Sunshine Wheat. My parents let me have a bottle or two of it over the weekend and I really loved it. I didn't think beer could be that good.
Since then, my beer palate has improved quite a bit and I find Sunshine to be rather…well, tame, I guess, but it will always have a special place in my heart since that's the beer that taught me that I liked beer.
2. Have you have additional craft beer epiphanies since the first? Detail as many of them as you wish:
Once I hit 21, I decided that every time I returned to Ireland I would bring back two six packs from different Colorado breweries. My Irish friends would look at me like I was crazy and refer to them as "those weird beers". I didn't like a lot of them, they were a little too complex for my younger tastes, but it helped grow my appreciation for the Colorado craft beer scene. As soon as I moved back home, I was ready to try as many new and different beers as I could find.
Beer Blog Background
1. How long have you been writing your beer blog?
A little over six months now.
2. What inspired you to start writing your blog?
I've always been a writer. I love writing and I feel lost when I don't have an outlet for it. Last year my job didn't involve any writing and I really missed it. I was trying to come up with something that would keep me writing on a regular basis. Lots of people offered me good suggestions, but I knew I wouldn't commit to any of them. Then, one night I was having dinner at Breckenridge Brewery before the Nuggets/Cavs game (Nuggets won, by the way), my friends suggested I start a beer blog. I knew that my love and interest in beer would motivate me to stick with it.
3. Why did you chose the name of your blog?
The same friend who suggested I start the blog suggested the name. My mind was somewhat set on that, so I stuck with it.
What are you personal goals for your blog? What do you hope to achieve with it?
I'd love for it to become my profession, but I know that's a long shot. The opportunity to write books about beer, especially beer travel books, really appeals to me. When I started the blog I had this dream of becoming the beer version of Bill Bryson, but, again, I know that's a long shot.
4. What is one of the coolest things that happened to you as a result of being a beer blogger?
Anytime I realize that someone is reading my blog, I'm happy. I've had beer distributors and breweries contact me. Back in March I had the opportunity to interview the master brewer of Guinness, which was really exciting for a two month old blog. Though I think the best experience I had was when I met someone who knew me through my blog.
My boyfriend, Kyle, and I were at our friends' party in the mountains. I didn't know anyone, so I started talking to some woman who had a dog. I mentioned my beer blog and her eyes lit up and she nearly shouted, "Are you Jenn and Beer?" She had apparently found my blog through Twitter a few months back and had been reading it ever since.
The beer blog has also changed my friends' perception of my love of beer. People now know that if they need to get me something, beer-related gifts are always a good idea. Last week, for my birthday, one of my friends made me the best cake ever.
5. What are you top 3 favorite beer blogs/beer websites?
Hmm, so many have been covered by the previous bloggers, that I'm going to try to bring up some new ones.
Beer Talk
1. What are your top 3 favorite beer styles?
My current summer beer obsession is Belgian-style IPAs — they're light enough that they're refreshing in the heat but still have enough flavor and body that they're interesting. I also really enjoy interesting stouts, such as coffee stouts or chili stouts. There's a brewery outside Denver that has a javapeno stout, I first tried it a few months ago and I still can't stop thinking about it. Not knowing what to say for my third, Kyle suggested that I say that "it changes like the weather, which is very often here."
2. What are your top 3 favorite breweries?
Great Divide's tap room is my home away from home. I love their beers, I love their staff, I love them. Fremont brewing in Seattle is also fantastic. I'll reserve the spot of my third favorite brewery for the one I haven't found yet.
3. If you could work with or for any one brewery, which one would it be and why?
Great Divide. See above. They're a great brewery and I think they epitomise a lot of what Denver's about. Plus they make a point of supporting Denver businesses and other Denver-related causes.
4. Are you a homebrewer? If yes, what is the most unique and interesting beer recipes you've brewed as a homebrewer?
Not yet. I keep meaning to start, but haven't actually gotten around to it. Someday soon… someday soon…
5. Do you have any beer certifications (BJCP, Cicerone, Siebel, American Brewers Guild)?? If so, what are they?
Nope.
6. What is your favorite beer and food pairing?
Great Divide does this amazing beer and cheese pairing every month. I didn't fully appreciate the value of pairing beer with food until I went to one of those. I *really* love cheese and seeing how well it compliments some of my favorite beers… it was like a personal heaven for me.
The Personal Side
1. What is your current day job?
I'm currently trying to make it as a writer, so the beer blog is more or less my "day job".
2. If you could change your career at this very moment, without any restrictions on what you could do, what would you want to do and why?
I'm not entirely sure, which is part of my current lack-of-direction. I'd love to do some sort of marketing or writing for a brewery. I love helping people learn about new beers and watching someone enjoy a beer I've suggested they try. If I could turn that into some kind of career, complete with an opportunity to write, I'd be happy.
3. Are you married? Children?
Nope, the boyfriend and dog are enough for me right now.
4. Outside of beer and writing, what are some of your other hobbies?
Kyle and I are slightly obsessed with the local music scene. We average 2-3 shows a week and tend to get mocked by our musician friends for going to more shows than anyone. (Anyone interested in catching a small scale concert while in town for the conference, let me know. There's bound to be something good on.)
I also spend a lot of time messing around with my dog, taking her on bike rides and hikes. In the winter my time's dedicated to the Denver Nuggets — I go to as many games as I can and watch any of the ones I can't attend.
Off The Beaten Path
1. If you were a style of beer, what style would be and why?
Not knowing what to say for this question, I asked Kyle. He said, "A Belgian white. Fun and easygoing, but with some depth and subtle-ness… something you could relax with on a hot day, but could contemplate the intricacies if you wanted." (He's going to give me grief when he finds out I wrote that verbatim.) Also, I'm pale and blond so a Belgian white would reflect my appearance somewhat accurately.
You were caught smuggling beer illegally, which has now been made punishable by death. Right before you are sent to the executioner, you are offered one last beer.
2. What beer would you chose and why?
I'm tempted to follow in the footsteps of other bloggers who have suggest beers like Nuclear Penguin. But I think I'd rather go out in style.
Years ago, Kurt Vonnegut teamed up with the folks at the Wynkoop brewery and made a beer based on a recipe of Vonnegut's grandfather. If I could have any beer, it'd be that one, and right before execution seems like a good opportunity to request it.
4. If I contracted you to brew a beer (or design a beer recipe) called "The Beer Wench" — what style would you chose and what, if any, extra ingredients would you add?
I'm going to cheat here and say a gueuze. Knowing it's one of the Wench's favorites. It's unique enough that it seems right for her. I might change my mind in November, when I actually meet her, but for now I'll go with that.
5. If you could be a superhero, what would you want your superpowers to be?
Teletransportation. Having spent more hours than I would like to count traveling to and from Ireland, I'd really like to be able to snap my fingers and be wherever I wanted. I don't know what that would do to the jet lag though…
What is one of the craziest things you have ever done and lived to tell the story?
I'll probably come up with something I would have rather said here later, but for now I'll go with this. When I was 12 I swam the Royal Gorge, which any white-water rafter can tell you is some of the most intense rafting in the country. I fell out of our boat while rafting. Our boat capsized on the next rapid and I had to find my way down the Arkansas river through level five and six rapids. Not especially fun, especially at 12.
6. What are your thoughts on bacon?
I didn't like it even when I wasn't a vegetarian. But I did get my sister an awesome bacon-related card for her birthday.
SPECIAL THANKS TO JENN FOR AN AWESOME INTERVIEW!
CHEERS!