DRINK WITH THE WENCH PRESENTS:
The Beer Blogger Interview Series
Curious what goes on in the minds of your favorite beer bloggers? Well, The Beer Wench is and she has embarked upon a mission to interview as many beer bloggers that she can — from all over the world. Are you a beer blogger? Do you want to share your story? Send me an email!
Beer Blogger Interview
Full name: Mark Dredge
Twitter handle: @markdredge
Name of blog: Pencil & Spoon
Current location: Tonbridge, Kent, England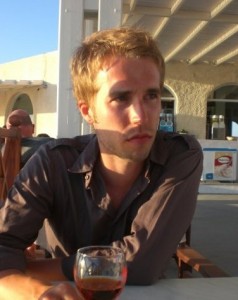 Background "Snapshot"
1. Where did you grow up?
Chatham, Kent, with my parents and little sister.
2. What sports if any did you play growing up, through college and beyond?
Cricket. How very English. Played for my University team.
3. How old were you when you had your first beer?
First beer that wasn't a sip was probably 13. I hated it.
4. If you can recall, what is the story of your first beer? Where did you have it? What style and brand was it?
No idea. Probably with my dad. A cheap, French lager, I guess. I hated the stuff and it took me years to appreciate it.
5. Where, if applicable, did you go to college? What did you study? What additional activities, organizations, sports did you partake in during college?
Royal Holloway, University of London for my undergraduate where I studied Media Arts. Then Roehampton University for a Masters in Creative Writing. I just played cricket at University and drank in London a lot.
Craft Beer Epiphany
Every craft beer enthusiast has at least one pinnacle craft beer experience that completely changes ones perspective on beer. I refer to this mind-blowing moment as a "craft beer epiphany."
What was your first craft beer epiphany? Have you have additional craft beer epiphanies since the first? Detail as many of them as you wish:
There have been a few and recently they have snowballed as I've been able to drink more and better beer. The first was at a small, local beer festival in Chatham. I was with my dad and two best mates and I had a dark mild that just blew my mind. It was also one of the most fun nights I've had and I got closer to my dad as a result.
The next major epiphany was with Stone's Ruination IPA. It was the best sensory drinking experience I'd had – the fruitiest, hoppiest, craziest beer and I instantly because addicted to the hop buzz and the drinkability of massive IPAs.
Since then it's been more about people and sharing and the way that beer lovers come together and enjoy these rare and delicious beers and want to talk about them. I am constantly inspired by the interaction between people when it comes to beer.
Beer Blog Background
1. How long have you been writing your beer blog?
Since October 2008, although for a year before this it was a food website.
2. What inspired you to start writing your blog?
I just wanted to write every day – for me it's about the writing, not just the beer.
3. Why did you choose the name of your blog?
It was originally about food (using my Pencil to write about the actions of my Spoon!) with some beer thrown in but the food quickly fell away as I got more interested in the liquid. I wish it was called Pencil & Pint now, but it's too late for that, plus I'm kind of attached to the name now!
4. What are you personal goals for your blog? What do you hope to achieve with it?
A reputation as a good writer. I don't expect to make money from it but I hope it will give me the opportunity to make money elsewhere and to write beyond the blog confines. Ultimately, it's my online notepad to keep me writing and it allows me to communicate with other people and become a better writer. The real goal is to write a book about beer (fiction or nonfiction).
5. What is one of the coolest things that happened to you as a result of being a beer blogger?
Being named the British Guild of Beer Writers New Media Writer of the Year 2009!! I'm still on a high from that one.
6. What are you top 3 favorite beer blogs/beer websites?
Reluctant Scooper, Rate Beer (I like reading the forums and the rates) and Impy Malting
Beer Talk
1. What are your top 3 favorite beer styles?
Double IPA, barrel-aged imperial stout and pale session ale (hoppy and under 4% ABV)
2. What are your top 3 favorite breweries?
Thornbridge, BrewDog and Marble (representing the UK!)
3. If you could work with or for any one brewery, which one would it be and why?
Thornbridge. Just the coolest, nicest people to be around and I love their beer.
4. Are you a homebrewer? If yes, what is the most unique and interesting beer recipes you've brewed as a homebrewer?
Not yet a homebrewer. I'm sure the time will come though…
5. Do you have any beer certifications (BJCP, Cicerone, Siebel, American Brewers Guild)?? If so, what are they?
Nope.
6. What is your favorite beer and food pairing?
The ones which are surprising and you don't expect. Islay-barrel-aged IPA with lemon cheesecake, for example. Or just the simple ones – a cold IPA or lager with fresh seafood while sitting in the sun.
The Personal Side
1. What is your current day job?
Communications for a large College (I get to blog and tweet and get paid for it!).
2. If you could change your career at this very moment, without any restrictions on what you could do, what would you want to do and why?
I'd be a writer, earning money from what I love.
3. Are you married? Children?
I live with my girlfriend. No children. Looking after myself is hard enough.
4. Outside of beer and writing, what are some of your other hobbies?
Running, cooking, reading.
Off The Beaten Path
1. If you were a style of beer, what style would be and why?
Something English but with American influence. Something a bit different, a relaxed kind of beer for sipping or glugging, with a creative twist to it, made by hard working hands in the early morning. An English new-skool IPA, 7-7.5% ABV, with some blackberries or strawberries (picked at dawn from wild hedgerows) added to the boil or ferment. So I'd have a malty-caramel base with big hops, earthy but also fruity and juicy, bitter in the nicest possible way.
2. You were caught smuggling beer illegally, which has now been made punishable by death. Right before you are sent to the executioner, you are offered one last beer. What beer would you chose and why?
Chances are that I won't be in a decent state of mind to appreciate a special beer but I'd go for BrewDog's Zephyr. It's big and strong yet subtle and fruity with strawberries and an amazing whisky barrel smoky sourness. I might not appreciate the taste but it'll be an experience to go out on a high with.
3. If I contracted you to brew a beer (or design a beer recipe) called "The Beer Wench" — what style would you choose and what, if any, extra ingredients would you add?
'Wench' makes me think large glasses of frothing lager but I don't think that's right… I think a twist on the lager, maybe an imperial lager, 10%, super hoppy and vibrant. You still need to serve it by the litre in massive glasses.
4. If you could be a superhero, what would you want your superpowers to be?
We had a discussion on the way to the pub once about having a superpowered liver so that we could just drink and drink and drink… we ultimately decided that would suck as you'd never get drunk (and getting a bit drunk is part of the fun). I'd say teleportation. I'm impatient and I'd love to just think of a place and magic myself off there.
5. What is one of the craziest things you have ever done and lived to tell the story?
I try and avoid crazy…
6. What are your thoughts on bacon?
Lee Bacon is my best friend. Seriously. One of my best mates has Bacon as a surname.
SPECIAL THANKS TO MARK FOR AN AWESOME INTERVIEW!
CHEERS!