DRINK WITH THE WENCH PRESENTS:
The Beer Blogger Interview Series
Curious what goes on in the minds of your favorite beer bloggers? Well, The Beer Wench is and she has embarked upon a mission to interview as many beer bloggers that she can — from all over the world. Are you a beer blogger? Do you want to share your story? Send me an email!
INTRODUCING: BRADLEY STARK
AUTHOR OF: DR. STARKWEATHER'S MIRACLE ELIXERS
Beer Blogger Interview
Full name: Bradley Stark
Twitter handle: @DrStarkweather
Name of blog: Dr. Starkweather's Miracle Elixers / #Gents
Current location: Chicago, IL
Background "Snapshot"
1. Where did you grow up?
Eastern Michigan, around Detroit and Ann Arbor.
2. What sports if any did you play growing up, through college and beyond?
I played Baseball and Basketball all through little league until I was old enough to play High School level, where I promptly realized I wasn't good enough in either. I grew up a good year younger than most the kids in my class, so while I kicked ass in little league when they group you by age, I was just too small to play High School. But I did get involved with Tennis in spite of my (at the time) small frame and went on to make Varsity.
3. How old were you when you had your first beer?
I had little sips from my parents as a kid, but I stayed away of my own volition until I was 19. Canada was always a hop skip and 30 minute drive and their legal age in Windsor was 19.
4. If you can recall, what is the story of your first beer? Where did you have it? What style and brand was it?
It was Budweiser, and I just remember that I was pissed off at some things in my life and so when someone shoved a beer in my hand, I didn't set it down like I normally did.
5. Where, if applicable, did you go to college? What did you study? What additional activities, organizations, sports did you partake in during college?
I spent 2 years studying Greek and Roman Classics at Grand Valley State University in Grand Rapids, Michigan. I had a morning radio show at the campus station, was in the Honors program, and messed around a bit with car audio. Then I transferred and got a Degree in Film/Video at Columbia College in Chicago, and got really into Quake 3 and even played with some pro clans.
Craft Beer Epiphany
Every craft beer enthusiast has at least one pinnacle craft beer experience that completely changes ones perspective on beer. I refer to this mind-blowing moment as a "craft beer epiphany."
1. What was your first craft beer epiphany? Recall as many details about it as you can:
It was Bell's Two Hearted, and tt was a summer evening. I was at a megachurch young adults function that I had been invited to by a good friend. We snuck off at one point and drank a six pack from the back of a guy's Jeep.
2. Have you have additional craft beer epiphanies since the first? Detail as many of them as you wish:
It happens all the time. I find I fall in love with a style until it gets too familiar and then it happens all over again.
Beer Blog Background
1. How long have you been writing your beer blog?
I started the homebrew blog back in December as a way to point people who ask on twitter what Im up to. But Iv been #gents for almost a year now, and thats probably how Im best known. Being a part of the #gents.
2. What inspired you to start writing your blog?
Andy Farley and Stephan Freshnock had homebrewing blogs and they kept telling me to start one.
3. Why did you chose the name of your blog?
Its kind of the name of my fictional brewery. If I ever had my on brewery I'd use that name. I think its a fun snake oil salesman type name.
4. What are you personal goals for your blog? What do you hope to achieve with it?
Not a lot of ambition with the homebrew blog. I want to focus not just on what I'm brewing but on specific ingredients or techniques. I think the #gents thing is a lot more ambitious, but thats because we have so many ambitious guys behind it. We started doing live events for a bit, but we didn't nail the format and Id like us to try and go back and figure it out. There has also been talk about doing a #gents CBC event since it is in our backyard this year.
5. What is one of the coolest things that happened to you as a result of being a beer blogger?
Well I got invited to a brewery and then left with a box full of beer (Thanks Todd!). I think that makes it all worth it and the relationships I've made through twitter have been really awesome.
6. What are you top 3 favorite beer blogs/beer websites?
Beer Talk
1. What are your top 3 favorite beer styles?
Tripels, RIS, and Barlywines
2. What are your top 3 favorite breweries?
Surly, Avery, and Kuhnhenn
3. If you could work with or for any one brewery, which one would it be and why?
Something small like Half Acre. I would want to keep the brewing fun and with dozens of employees and a 24 hour brewing schedule I would have to believe the larger craft breweries are a little more serious than I would want.
4. Are you a homebrewer? If yes, what is the most unique and interesting beer recipes you've brewed as a homebrewer?
Yeah, I've been homebrewing since September 2009. My most interesting beer so far was a Vanilla and Oak belgian brewed with caramelized sugar and Abbey Ale yeast.
5. Do you have any beer certifications (BJCP, Cicerone, Siebel, American Brewers Guild)?? If so, what are they?
I'm currently working with a few guys doing BJCP study groups. In the future I'd like to maybe do Siebel and Cicerone if my life takes me in that direction.
6. What is your favorite beer and food pairing?
That would be Bell's Hopslam and 7-eleven Chilidogs.
The Personal Side
1. What is your current day job?
Freelance Animator
2. If you could change your career at this very moment, without any restrictions on what you could do, what would you want to do and why?
A Mythbuster. Seriously, those guys have an awesome skill set and they get to blow things up and have so much fun.
3. Are you married? Children?
No to both.
4. Outside of beer and writing, what are some of your other hobbies?
I'm a bit of a hobby collector. I tend to learn a lot about hobbies and subjects and then move on. Im also a big TV fan. I would like to someday figure out how I can turn watching TV all day into a high paying career. Ill keep you updated on that.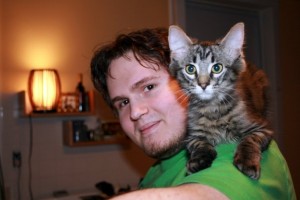 Off The Beaten Path
1. If you were a style of beer, what style would be an why?
Wild Ale. My brain often goes to weird places and you cant be sure what I'll do next. Just like a Wild Ale can keep you guessing.
2. You were caught smuggling beer illegally, which has now been made punishable by death. Right before you are sent to the executioner, you are offered one last beer. What beer would you chose and why?
Surly Darkness. So that the transition to hell isn't as severe.
3. If I contracted you to brew a beer (or design a beer recipe) called "The Beer Wench" — what style would you chose and what, if any, extra ingredients would you add?
I'd do a spontaneously fermented blonde ale recipe. Aggressively hopped for taste and aroma.
4. If you could be a superhero, what would you want your superpowers to be?
Master of Time and Space.
5. What is one of the craziest things you have ever done and lived to tell the story?
I've wrapped myself up from head to tow in plastic wrap and hurled myself down a snow covered mountain. It was a spectacle thing, my friends wanted to see me do it.
6. What are your thoughts on bacon?
I have always loved the stuff, but my eyes have only been recently opened to all the things you can do to bacon to make it better!
SPECIAL THANKS TO BRAD FOR AN AWESOME INTERVIEW!
CHEERS!