True story: I love to Google random word combinations that involve beer. And by doing so, I stumble across some pretty awesome (and some not-so-awesome) things. So I have decided that, from now on, I am going to start posting my awesome discoveries on Drink With The Wench in the category I am calling FTW — aka For The Win.
My latest awesome discovery is custom made recycled beer carton wallets. I found the product on Etsy, the Internet mecca of all sorts of fun and creative craft projects. My sister sent me on a mission to find her a cute new wallet. So naturally, I found myself googling beer wallet, and then stumbled across these gems. Too bad my poor little sister does not drink beer, or alcohol in general. #sadface
I love this product because not only is it beer related, but it is also sustainable — two things very near and dear to my heart. In the U.S., the wallets cost about $8 a pop– which is pretty cheap when you consider 1. the creativity behind the product 2. the time going into making the wallet and 3. the fact that it is custom-made (aka one-of-a-kind).
I'm actually thinking about contacting them to see if they would be willing to team up with Bison Brewing, an organic craft brewery in Berkeley, CA, to build some custom wallets for our team, our partners, and even our friends and fans. What do you think?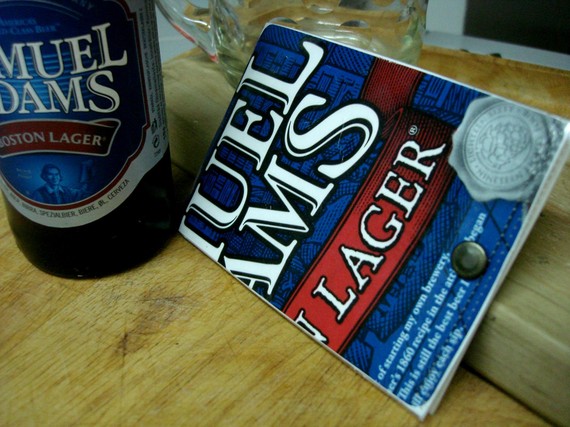 About Bombyx Beer Carton Wallets
Each wallet is a one-of-a-kind item, you can choose your favorite beer carton or I can choose a special one for you. I already have some made with cartons of Guinness, Coors Light, Birra Moretti, Victoria, Cucapá, Spaten and much more. These wallets are made with recycled beer cartons and cardboard. Handy, lightweight and spacey enough to keep in place your bills, coins, ids, tickets, coupons and whatever it fits!
The wallets ship from San Ysidro, CA through USPS. Bombyx Beer Carton Wallets are also available in San Diego, CA at the Make Good Store.
(Disclaimer: all photos belong to Bombyx)