Just when I thought all the possible hop pun beer names have been thought of, New Belgium announced the release of a brand spanking new seasonal — Red Hoptober, a deep garnet ale featuring Eldorado red hops.
Weighing in at 6% abv and 45 IBUs, Red Hoptober is a dark garnet ale with a bright head and three varieties of hops. El Dorado hops from Central Washington are bold and present with a distinct, piney flavor as well as citrus notes. The caramel malt and roasted barley provide a sturdy backbone. Centennial and Cascade hops bring more hints of citrus, and a subtle roasty tone follows through each sip.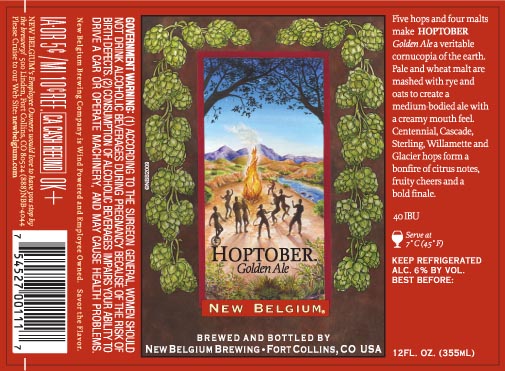 "Fall seasonals are a terrific transition from hot weather's lighter beers into the warm embrace of winter beers," says New Belgium Brewer Grady Hull.  "Red Hoptober is perfect for a cool day fishing or a relaxing night around the campfire."
No need to wait until fall though — the hunt is on now. Red Hoptober is available in most New Belgium markets now through October. To find New Belgium beers in your area, you can use the New Belgium Libation Location tool: http://www.newbelgium.com/beer.aspx. You can also follow New Belgium on Facebook at https://www.facebook.com/newbelgium.
About New Belgium Brewing Company
New Belgium Brewing Company, makers of Fat Tire Amber Ale and a host of Belgian-inspired beers, began operations in a tiny Fort Collins basement in 1991. Today, the third largest craft brewer in the U.S., New Belgium produces nine year-round beers; Fat Tire Amber Ale, Sunshine Wheat, Ranger IPA, Belgo IPA, Shift Pale Lager, Blue Paddle Pilsner, 1554 Black Ale, Abbey and Trippel, as well as a host of seasonal releases.  In addition to producing world-class beers, New Belgium takes pride in being a responsible corporate role model with progressive programs such as employee ownership, open book management and a commitment to environmental stewardship.  For more information, visit www.newbelgium.com.