DRINK WITH THE WENCH PRESENTS:
The Beer Blogger Interview Series
Curious what goes on in the minds of your favorite beer bloggers? Well, The Beer Wench is and she has embarked upon a mission to interview as many beer bloggers that she can — from all over the world. Are you a beer blogger? Do you want to share your story? Send me an email!
INTRODUCING: JAMESON HUCKABA
AUTHOR OF: BEER GENIUS
Beer Blogger Interview
Full name: Jameson Huckaba
Twitter handle: @beergenius, @jamesonhuckaba
Name of blog: BeerGenius
Current location: Lawrence, KS
Background "Snapshot"
1. Where did you grow up?
I grew up in the Kansas City area. On a beer-related note, it's fun living in the middle of the country and getting a decent selection of beers from both coasts.
2. What sports if any did you play growing up, through college and beyond?
Oh man – I played the standard stuff as a kid. Soccer, Football, Basketball, and golf. I did a short stint with skydiving (I have three jumps), and now I'm loving disc golf.
3. How old were you when you had your first beer?
Apparently, when I was 9 months old, I was crying – and my dad dipped my pacifier in his beer. I immediately shut up. My mom wasn't too happy.
4. If you can recall, what is the story of your first beer? Where did you have it? What style and brand was it?
I remember my grandfather handing me a Miller Lite when I was fourteen or fifteen. I maybe made it halfway through the can before it was confiscated by my mother. Funny enough, I didn't really drink again until I was out of high school.
5. Where, if applicable, did you go to college? What did you study? What additional activities, organizations, sports did you partake in during college?
I've attended both the University of Missouri-Columbia and their mortal enemy, The University of Kansas (Go Jayhawks!). I suppose you could call me a generalist – I've studied (or at least taken courses in) biochemistry, accounting, marketing, economics, computer science, English, and Russian. All of that, as you may have guessed, means I really studied beer drinking, and being a Jayhawk, basketball.
Craft Beer Epiphany
Every craft beer enthusiast has at least one pinnacle craft beer experience that completely changes ones perspective on beer. I refer to this mind-blowing moment as a "craft beer epiphany."
1. What was your first craft beer epiphany? Recall as many details about it as you can:
Interestingly enough, I was drinking scotch with a fraternity brother when it hit me: "hmm," I thought, "I've got a fridge full of Keystone Light. I like beer, but I don't really like Keystone Light. This scotch, on the other hand, is absolutely delicious. Sure, a little expensive, but I'd like to actually enjoy what I'm drinking – why can't I do the same with beer? I'd sacrifice a few beers to drink better beer." And that was the beginning.
2. Have you have additional craft beer epiphanies since the first? Detail as many of them as you wish:
Certainly. I had a good friend who was obsessed with Boulevard Unfiltered Wheat, a very decent American Hefeweizen (review here). He liked it so much that he obtained a 1/6th barrel for his birthday party, despite the expense as compared to a volume beer — Bud Light or Miller High Life was the normal party choice. After an evening with that wonderful beverage, I noticed everyone else at the party seemed to be enjoying themselves even more, and RAVING about the beer – aside from the couple of guys who brought their 30 rack of Budweiser. They were missing out.
Also, I worked for awhile at a restaurant with 99 beers on draft, and another 60-70 beers in bottles. We'd do tastings before work, as our inventory was constantly changing with seasonal beers and such. It also became a pretty rad place to hang out afterwards, as the beer was diverse, inexpensive, and plentiful. I received quite an education while working there, and passed along as much as I could to my guests in the restaurant. While not a single moment epiphany, it helped build the base for the beer knowledge I have today.
Beer Blog Background
1. How long have you been writing your beer blog?
BEER GENIUS started as a small side project in 2006. I was out of the country (and inaccessible) for nearly all of 2008, so BeerGenius was revived in March of 2009.
2. What inspired you to start writing your blog?
The purpose is three-fold:
1). To educate my readers about craft beer, and the merits thereof;
2). To separate the mediocre from the awesome and encourage craft brewers to constantly improve by fostering some friendly competition; and
3). A bit of a short story. My buddy Jeffrey, now my resident Chef on BeerGenius, and myself, were sitting at one of our local brewpubs (http://brew23.com) when we decided it would be awesome to have our own TV show, travel the world, tour breweries, drink beer, and get paid for it. "So how do we get there?" we mused. "We become credible. Okay – how do we do that? Well, let's start writing."
While that's not necessarily the ultimate goal, it was an inspiration.
3. Why did you chose the name of your blog?
My sister came up with BeerGenius, and it was catchy.
4. What are you personal goals for your blog? What do you hope to achieve with it?
I hope to grow a significant readership (we're on the way!), turn BeerGenius into a credible, timely beer publication, and continue to produce awesome material.
5. What is one of the coolest things that happened to you as a result of being a beer blogger?
Hearing stories from all over the country – from people we've never met – about how our website has inspired people to try beers they wouldn't have otherwise come across is really, really cool.
6. What are you top 3 favorite beer blogs/beer websites?
You mean aside from TheBeerWench? BeerAdvocate is a wonderful reference, and I believe they've done a great job creating crowd-sourced opinions through their education material. I love the BeerSmith Home Brewing Blog, as it has some really great material, and is useful for both experienced and novice home brewers. Finally, I enjoy BeerTown.org – events, official style guides, and great people all in one place? Hard to beat.
Beer Talk
1. What are your top 3 favorite beer styles?
Porter, Amber, and a really good Saison.
2. What are your top 3 favorite breweries?
Just three? Favorite, and not because they happen to be trendy, are Unibroue, Dogfish Head, and Stone Brewing Co. Honorable Mention goes to Boulevard Brewing Co.
3. If you could work with or for any one brewery, which one would it be and why?
While I would love to work with Boulevard – They've got a seriously awesome brew house, a great culture, and an insane product line – I really prefer to remain objective in this industry. We'll see which way the wind blows.
4. Are you a homebrewer? If yes, what is the most unique and interesting beer recipes you've brewed as a homebrewer?
In my secondary fermenter at the moment I've got a hoppy amber, similar to Rogue's dry-hopped St. Rogue red.
5. Do you have any beer certifications (BJCP, Cicerone, Siebel, American Brewers Guild)?? If so, what are they?
I've got a Cicerone Beer Server certification, and I'm considering going after BJCP and the Certified Cicerone certifications.
6. What is your favorite beer and food pairing?
A braised short-rib with a barrel-aged stout is ideal.
The Personal Side
1. What is your current day job?
As of now, I am spending most of my time and energy on BeerGenius.
2. If you could change your career at this very moment, without any restrictions on what you could do, what would you want to do and why?
Exactly what I'm doing – life is too short.
3. Are you married? Children?
None of the above.
4. Outside of beer and writing, what are some of your other hobbies?
I'm a complete computer nerd. I also see a lot of concerts, cook quite a bit, travel on occasion, play guitar, consume news, and play disc golf.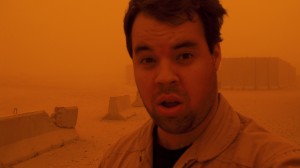 Off The Beaten Path
1. If you were a style of beer, what style would be an why?
A porter – there are so many different substyles of porter, flexible for the situation you're in – although the end result is always consistent, delicious, and awesome. Not that I'm delicious or anything…I'm gonna stop now.
2. You were caught smuggling beer illegally, which has now been made punishable by death. Right before you are sent to the executioner, you are offered one last beer. What beer would you chose and why?
One last beer = one last bottle? I'll take a bottle of Utopias. With the proper glassware, of course. And maybe, just maybe, I won't feel a damn thing.
3. If I contracted you to brew a beer (or design a beer recipe) called "The Beer Wench" — what style would you chose and what, if any, extra ingredients would you add?
Something sassy/spicy – a holiday bavarian hefeweizen, perhaps, or a rich, dry-hopped brown.
4. If you could be a superhero, what would you want your superpowers to be?
CONTROL OF TIME would be about the coolest thing ever. I can't even fathom how much I'd get done…
5. What is one of the craziest things you have ever done and lived to tell the story?
I went to Iraq once. It's not a very nice place to vacation right now. Give it 50 years or so.
6. What are your thoughts on bacon?
Well, I'm scrubbing bacon grease from my flat top (not the haircut – the cooking surface) about every morning, and my fridge is as stocked with bacon as it is beer. Perhaps the two should go together. I will find a way.
SPECIAL THANKS TO JAMESON FOR AN AWESOME INTERVIEW!
CHEERS!