DRINK WITH THE WENCH PRESENTS:
The Beer Blogger Interview Series
Curious what goes on in the minds of your favorite beer bloggers? Well, The Beer Wench is and she has embarked upon a mission to interview as many beer bloggers that she can — from all over the world. Are you a beer blogger? Do you want to share your story? Send me an email!
INTRODUCING: MICHAEL J IRONSIDE
AUTHOR OF: DIARY OF A HOPHEAD
Beer Blogger Interview
Full name: Michael J Ironside
Twitter handle: @m_ironside
Name of blog: Diary of a Hop Head
Current location: Stirling, Scotland
Background "Snapshot"
1. Where did you grow up?
In the countryside of central-east Scotland
2. What sports if any did you play growing up, through college and beyond?
Anything involving hurdles or running as I've had long legs since I was around 12
3. How old were you when you had your first beer?
Oddly enough for someone growing up in my generation, 17. Looking back I don't know why I waited so long.
4. If you can recall, what is the story of your first beer? Where did you have it? What style and brand was it?
I had my first beer at University when I was underage at 17. It was a pint of Murphy's Stout served in the students union. Everyone else was drinking fizzy cold lager and I wanted something different.
5. Where, if applicable, did you go to college? What did you study? What additional activities, organizations, sports did you partake in during college?
I am still at University and I am just finishing a year out of my degree. I study at the University of Stirling in Stirling, Scotland. I study French and Politics and that's why I am just completing a year out in France.
Being a politics student I am involved with one of the political parties on campus and I had to stand down as vice president to move to France. This coming university year I will be setting up a 'Craft beer and real ale society'.
Craft Beer Epiphany
Every craft beer enthusiast has at least one pinnacle craft beer experience that completely changes ones perspective on beer. I refer to this mind-blowing moment as a "craft beer epiphany."
1. What was your first craft beer epiphany? Recall as many details about it as you can:
After developing a taste for beer after going to University I started raiding supermarket aisles for things that were a little bit 'different'. I think my first real epiphany was probably with my first bottle of Punk IPA from BrewDog. I started drinking at about the same time they launched really so it has always been around during my drinking days. I was attracted by the design at first and when I actually discovered that the product inside the bottle was just as good as the outside I was hooked. I pretty much do have the boys at BrewDog to thank for my journey into the world of craft beer.
2. Have you have additional craft beer epiphanies since the first? Detail as many of them as you wish:
Loads since then, almost too many to list……… I would say my first Lambic really opened the way to a whole new style for me. Also when I first started trying some American craft beer and realised that there was much more to American beer than 'light beers'. Dogfish Head, Mikkeller, Stone, Dark Star, BrewDog, Thornbridge are all to thank for some of my beer epiphanies.
Beer Blog Background
1. How long have you been writing your beer blog?
Only four months, new to the world of beer blogging
2. What inspired you to start writing your blog?
I read some great blogs that are out there and realised that there were lots of other people who were just as excited and inspired by craft beer as I was. I enjoy writing and reviewing so I thought that I would turn my hand to a bit of blogging too.
3. Why did you choose the name of your blog?
At the time I chose the name because I was a real hop head and hoppy beers were pretty much all I drank at the time. Although now my tastes have broadened a lot I still prefer heavy hopped beers so it seems like a natural choice.
4. What are you personal goals for your blog? What do you hope to achieve with it?
Mainly I just want people to enjoy what they are reading. I've already had some great feedback and comments on the blog and as long as people continue to read and enjoy what I do, I will be happy. In the long run it's just all about my passion really and if I can make a few pounds on the way then that would be good too. It would be nice to have work professionally published one day, so I guess you could call that a goal too.
What is one of the coolest things that happened to you as a result of being a beer blogger?
I have actually received a job through someone having seen my work on the blog. This summer during my summer break from university I will become an honorary BrewDog for a few months. It all came as a bit of a surprise really but after me writing some positive stuff about the brewery on the blog, James at BrewDog got in touch and offered me a job with the brewery. I will be doing a mix of brewing and working with James and the other guys on marketing too. I am looking forward to it a lot and hope to be able to write a lot about it on the blog and to gain some brewing knowledge too.
5. What are you top 3 favourite beer blogs/beer websites?
Mark Dredge at Pencil and Spoon as I think we have quite similar tastes in beer (and we are probably closest in age too!)
Andy Mogg at www.beerreviews.co.uk as he has been really helpful with comments and advice in the first few months of my blog
BrewDog Blog as I get a fix of all the gossip that is going on with regard to future beers etc from my favourite brewery
Beer Talk
1. What are your top 3 favourite beer styles?
IPA, Lambic and Porter
2. What are your top 3 favourite breweries?
BrewDog , Mikkeller and Williams Brothers
3. If you could work with or for any one brewery, which one would it be and why?
Aside from my job at BrewDog I would probably have to say Stone Brewery. I love the beers that they make and also the marketing that they use. I'm sure it's a great place to work for and the guys that work there seem to be really passionate about what they do.
4. Are you a homebrewer? If yes, what is the most unique and interesting beer recipes you've brewed as a homebrewer?
Not at the moment but I have plans to start home brewing after I start back at university in September
5. Do you have any beer certifications (BJCP, Cicerone, Siebel, American Brewers Guild)?? If so, what are they?
Nope
6. What is your favorite beer and food pairing?
I love a beer that goes well with cheese. I can quite happily skip beer with a meal so long as I have a good beer to match with the cheese. As for the beer, that all depends on the cheese!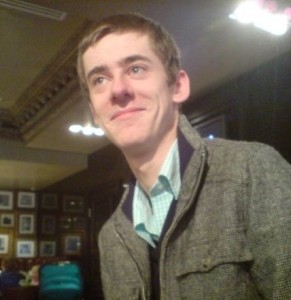 The Personal Side
1. What is your current day job?
Until I start my job in the brewery I am an English teacher. Two jobs which should never mix!
2. If you could change your career at this very moment, without any restrictions on what you could do, what would you want to do and why?
I would become a brewer. If there were no restrictions I would set up a brewing and brewpub business in the UK with one of my friends who is also interested in craft beer. It is my dream to have my own brewpub one day so that I can make beer and see people enjoy it right there on the premises.
3. Are you married? Children?
I am only 20 I think it's a little early for all that just yet!
4. Outside of beer and writing, what are some of your other hobbies?
Music mainly, I spend a lot of time listening to or making music. I write lyrics and I used to sing for a band but now I am stuck with singing in the shower or recording music at home. Aside from music and beer I enjoy cooking, reading, debating and wine tasting too.
Off The Beaten Path
1. If you were a style of beer, what style would be and why?
I think I would have to be a Belgian IPA. Primarily because I speak French with a funny accent much like the Belgians! Secondly because I love Belgian yeast in a beer but I love a good shovel load of American hops. With a Belgian IPA I would be the best of both worlds.
2. You were caught smuggling beer illegally, which has now been made punishable by death. Right before you are sent to the executioner, you are offered one last beer. What beer would you chose and why?
This is a tough one, there are lots that I would want to have again. If it was just one though I would probably have to say Sink the Bismarck from BrewDog. If I drank the whole bottle I'd definitely leave this world with a smile on my face. Seriously though, it was like sticking my face in a bag of hops and there was lots of lovely oily hops in the beer. If I were to be executed I'd want the smell of hops to be my last.
3. If I contracted you to brew a beer (or design a beer recipe) called "The Beer Wench" — what style would you chose and what, if any, extra ingredients would you add?
The word wench makes me think of times long ago so I would probably look for an 'Old Scottish' ale recipe and then bastardise it by adding lots of red fruit and some floral hops. Hopefully creating something a little sweet, a little bit twisted but very, very drinkable.
4. If you could be a superhero, what would you want your superpowers to be?
Definitely the ability to magic great craft beer into my fridge from any place in the world. We already have enough superheroes saving lives; we don't need another clogging up the skies.
5. What is one of the craziest things you have ever done and lived to tell the story?
I wouldn't say crazy but rather just plain stupid was I once crashed my car on icy roads. I lived to tell the tale but my little car did not. It did teach me as a young invincible teenager though that I'm, in fact, not invincible and that I should probably enjoy life a little more. I also once went white water rafting the day after some of the worst rainfall in years in the Dominican Republic; I very nearly didn't survive that!
6. What are your thoughts on bacon?
I am trying (once again) to become a veggie. All current thoughts about bacon are completely banned. Mmmmm Bacon…………
SPECIAL THANKS TO MICHAEL FOR AN AWESOME INTERVIEW!
CHEERS!