DRINK WITH THE WENCH PRESENTS:
The Beer Blogger Interview Series
Curious what goes on in the minds of your favorite beer bloggers? Well, The Beer Wench is and she has embarked upon a mission to interview as many beer bloggers that she can — from all over the world. Are you a beer blogger? Do you want to share your story? Send me an email!
INTRODUCING: MARK
AUTHOR OF: BEER. BIRRA. BIER.
Beer Blogger Interview
Full name: Mark
Internet nickname: Chunk
Twitter handle: @beerbirrabier
Name of blog: Beer. Birra. Bier.
Current location: London, England.
Background "Snapshot"
1. Where did you grow up?
I grew up in Kent, England. If you've ever heard of a city called Canterbury, I used to live quite near to there.
2. What sports if any did you play growing up, through college and beyond?
I played front row in school and college Rugby teams, I was a half decent fast bowler in various cricket teams and I've always been a keen long distance runner.
3. How old were you when you had your first beer?
Too young to remember! My parents were always of the opinion that alcohol isn't something that should be banned until you hit a specific age, I was always allowed to try my Dad's beer and to drink the odd small shandy, from the age of about 12-13.
4. If you can recall, what is the story of your first beer? Where did you have it? What style and brand was it?
The first decent beer I remember drinking was Erdinger Weissbier. I remember sharing a can with my brother, when we were on a family holiday in Germany. I must have been about 15.
5. Where, if applicable, did you go to college? What did you study? What additional activities, organizations, sports did you partake in during college?
We call it University in England! I went to Canterbury University and studied Computer Science. Zzzzzzz!
Craft Beer Epiphany
Every craft beer enthusiast has at least one pinnacle craft beer experience that completely changes ones perspective on beer. I refer to this mind-blowing moment as a "craft beer epiphany."
1. What was your first craft beer epiphany? Recall as many details about it as you can:
You know what, I might be the person that breaks that rule! I did a fair bit of travelling around Europe as a kid, so I was exposed at an early age to the Weissbiers, Dunkels, Marzens etc. There definitely isn't one beer that made me sit up and think "WOW … enough of that macro rubbish, this is what I want to drink from now on!". I've always been interested in food and how things are made, beer sort of naturally followed on from that.
2. Have you have additional craft beer epiphanies since the first? Detail as many of them as you wish:
The first time I tried Brewdog Punk IPA, it blew me away. To think that a beer like that was being made in the UK was really really cool.
Looking back on it now it's a bit naff, but oak aged Innis and Gunn was a bit of an epiphany. It really opened my eyes to the flavours you can get from cask ageing and made me go and seek out other cask aged beers.
Recently I tried Brewdog Sink the Bismarck! and that was an interesting experience. There really is nothing else out there that tastes like it.
Beer Blog Background
1. How long have you been writing your beer blog?
I've only been writing a public blog since November 2009. (Four or so months).
2. What inspired you to start writing your blog?
All of the other great blogs that I'd been reading for a while.
3. Why did you choose the name of your blog?
I'd just come back from a holiday in Italy and was really used to asking for "Birra" instead of "Beer". It sort of came from that.
4. What are you personal goals for your blog? What do you hope to achieve with it?
Just to have fun writing it and to use it as a creative outlet for the enthusiasm I have about beer. I think if you set out to achieve anything more than that, you'll find it difficult to keep it up. That, and to share a few beers (both virtually and in life) with some like minded people.
5. What are you top 3 favourite beer blogs/beer websites?
Jims Beer Kit is an awesome resource for the wannabe home brewer. Lots of people willing to share their experiences and knowledge.
Pencil and Spoon – 

A fun blog written by just about the most enthusiastic beer fan I've ever met.

Zak Avery's Youtube channel – 

An interesting video blog by a former beer writer of the year.
Beer Talk
1. What are your top 3 favorite beer styles?
American IPA, Mild, Cask aged Stout.
2. What are your top 3 favorite breweries?
Brewdog. Darkstar. Gadds'.
3. If you could work with or for any one brewery, which one would it be and why?
Gadds'. They're from the area I grew up and in and they make some fantastic beer. They don't get wrapped up in hype or marketing, they just concentrate on outstanding beer and aren't afraid to try new things.
4. Are you a homebrewer? If yes, what is the most unique and interesting beer recipes you've brewed as a homebrewer?
I am. Currently brewing a US inspired IPA but at 2.5%. Lots of interesting things in the planning stages too, keep an eye on the blog to find out. I'm concentrating on trying to really perfect my brewing at the moment.
5. Do you have any beer certifications (BJCP, Cicerone, Siebel, American Brewers Guild)?? If so, what are they?
Nope.
6. What is your favorite beer and food pairing?
Difficult to pick just one … so I'll pick two! English IPA and traditional mature cheddar. Super chilled Pilsner and Pizza.
The Personal Side
1. What is your current day job?
I work as an IT Business Analyst for an international retailer.
2. If you could change your career at this very moment, without any restrictions on what you could do, what would you want to do and why?
Brewer, without question. Don't even need to think about it. It would be essential that I could brew with a team of like minded people that are challenging and enthusiastic though. If it wasn't for the time and money I'd invested in my current career, I'd probably already be trying to make the change.
3. Are you married? Children?
Neither. I do live with my Girlfriend though.
4. Outside of beer and writing, what are some of your other hobbies?
I'm a really big cricket fan and I love anything and everything to do with food.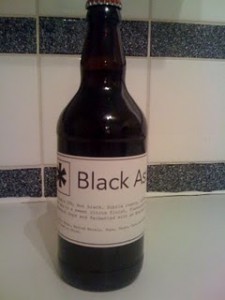 Off The Beaten Path
1. If you were a style of beer, what style would be an why?
Hmmm, probably a mild because I can be quite quiet and reserved around people I don't know that well, but underneath there's loads of flavour/personality.
Sheesh, that's cringe worthy!

2. You were caught smuggling beer illegally, which has now been made punishable by death. Right before you are sent to the executioner, you are offered one last beer. What beer would you chose and why?
Shepherd Neame Spitfire. Not the greatest beer in the world, but so many happy memories are attached to it.
3. If I contracted you to brew a beer (or design a beer recipe) called "The Beer Wench" — what style would you chose and what, if any, extra ingredients would you add?
Interesting. "The Beer Wench" sounds quite bubbly, lively, sassy and exotic. How about a heavily carbonated Belgian blonde ale, flavoured with Passion fruit and Lychee?
4. If you could be a superhero, what would you want your superpowers to be?
Time travel … think of the possibilities! I could go back in time and drink the first beer ever brewed!
5. What are your thoughts on bacon?
Crispy. White bread, slightly toasted. Brown sauce. Bloody delicious!
SPECIAL THANKS TO MARK FOR AN AWESOME INTERVIEW!
CHEERS!