DRINK WITH THE WENCH PRESENTS:
The Beer Blogger Interview Series
Curious what goes on in the minds of your favorite beer bloggers? Well, The Beer Wench is and she has embarked upon a mission to interview as many beer bloggers that she can — from all over the world. Are you a beer blogger? Do you want to share your story? Send me an email!
INTRODUCING: MARK BUCKLEY
AUTHOR OF: RIVER ROAD BREWERY
Beer Blogger Interview
Full name: Mark Buckley
Internet nickname: Halite
Name of blog: River Road Brewery
Current location: Dublin, Ireland
Background "Snapshot"
1. Where did you grow up?
I grew up in a town on the outskirts of Dublin called Leixlip. Leixlip is the original home of Guinness and Arthur Guinness Brewed there from 1755 until they moved to the famous St James Gate Brewery in Dublin in 1759.
2. How old were you when you had your first beer?
My first proper beer (i.e. in a pub) was probably when I was 15 and I went to Germany on a student exchange programme with school. It was very liberating as a 15 year old to be able to walk into a bar and order a beer (the drinking age for beer in Germany is 16, I must have passed for 16 when I went)
3. If you can recall, what is the story of your first beer? Where did you have it? What style and brand was it?
Unfortunately it is probably not worth talking about. It no doubt involved a warn can of Budweiser and what we like to refer to in Ireland as ditch drinking!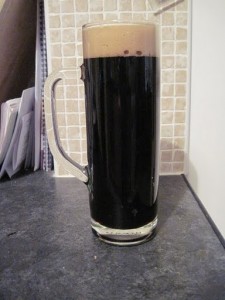 Craft Beer Epiphany
Every craft beer enthusiast has at least one pinnacle craft beer experience that completely changes ones perspective on beer. I refer to this mind-blowing moment as a "craft beer epiphany."
What was your first craft beer epiphany? Recall as many details about it as you can:
My craft beer epiphany comes in two parts. Firstly when I was 15 I went to Germany on a student exchange programme. One night when I was at a party in another student's house we went to the local beer hall. My German not being very good I pointed at a beer tap and asked for one of those, I was served a stein of a Dunkel beer (I think it was called Dunkel Spass).
The revelation for me came from the fact that it looked dark like Guinness but tasted like a beer, from that moment on I have loved German beers. Unfortunately for whatever reason this experience did not launch me into a quest for great beer. When I started going to pubs in Ireland (aged 18) I spent the first 14 years of my drinking life enjoying Guinness. It was only last year when I went to a craft beer festival in Dublin that my love of beer was re-awakened (it only took 17 years!).
At the beer festival I was able to discover a number of Irish craft breweries that I had never heard of. Since that day I have made it my quest to try as many different beers as I can and to understand beer on a deeper level. I used to be a wine drinker, but for the last year I have focussed on beer and I have not been disappointed. I think that beer offers a more complex and enjoyable experience than wine ever could.
Beer Blog Background
1. How long have you been writing your beer blog?
I only just started my blog in March of this year.
2. What inspired you to start writing your blog?
The idea behind my blog was to act as a repository of information about the beers I've tried and also my homebrew exploits.
3. Why did you chose the name of your blog?
The name of my blog comes from a road that I currently live on. I thought that River Road Brewery had a certain ring to it.
4. What are you personal goals for your blog? What do you hope to achieve with it?
My goal for my blog is to be able to offer people information that they want, simple eh? I would like to think that as the Blog develops that people will use it as a way of getting information on a particular beer that they are going to try and also for people who are starting out  homebrewing and want to get information on processes, equipment and recipes. I hope that providing people with a view of my homebrewing exploits, failures as well as successes, that it will inspire them to jump in and give it a try.
5. What are you top 3 favorite beer blogs/beer websites?
In no particular order: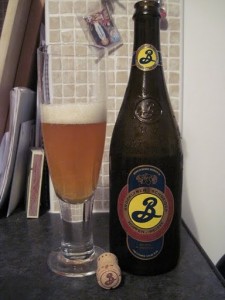 Beer Talk
1. What are your top 3 favorite beer styles?
American Pale Ale
American IPA
Weissbier
2. What are your top 3 favorite breweries?
Sierra Nevada
Brooklyn Brewery
Dogfish Brewery
Pretty obvious that I am a big fan of American beers
3. Are you a homebrewer? If yes, what is the most unique and interesting beer recipes you've brewed as a homebrewer?
I began homebrewing about ten months ago and so to date the beers I have brewed have been pretty run of the mill. I love big American C hops and so I have brewed a lot of pale ales with Amarillo and Cascade. My latest brew, ISO Standard Stout, is the best beer I have brewed to date, it is a dry Irish stout.
4. What is your favorite beer and food pairing?
I love German Weissbiers with Sausage and Sauerkraut.
The Personal Side
1. What is your current day job?
I work as a Business Development Manager for a market research and consultancy firm.
2. If you could change your career at this very moment, without any restrictions on what you could do, what would you want to do and why?
Without any doubt it would have to be something to do with beer, my dream would be to open a microbrewery and brew American style craft beer for the Irish market.
3. Are you married? Children?
Married to Helen for four years, we have three little boys, a two year old and one month old twins.
4. Outside of beer and writing, what are some of your other hobbies?
I have a keen interest in history, particularly military history. I have spent the last number of years completing a BA in History and Sociology and I am due to graduate this year.
Off The Beaten Path
1. You were caught smuggling beer illegally, which has now been made punishable by death. Right before you are sent to the executioner, you are offered one last beer. What beer would you chose and why?
It would have to be Brooklyner-Schneider Hopfen Weisse. It is a mash up of my two favourite beer styles, American pale ale and German weissbier. It is a truly magnificent beer and very complex. Also the bottle is 75 cl which would be a bonus.
SPECIAL THANKS TO MARK FOR AN AWESOME INTERVIEW!
CHEERS!