During a recent trip to Milwaukee, I had the opportunity to attend the 3rd Annual World Beverage Retailer Showcase, which was co-hosted by Beechwood Distributors Inc. and GreatBrewers.com at the Harley Davidson Museum. While at the trade show, I visited the Two Brothers Brewing Co. table and Christian was kind enough to tell me a bit about the company as well as taste me on four of their beers.
Two Brothers Brewing Company is a family owned and operated microbrewery and brewpub located in the western suburbs of Chicago. It was founded in late 1996 by Jim and Jason Ebel — two brothers who turned their passion for homebrewing into a successful business.
The Ebel brothers started their venture in an authentic German 3-vessel style brewhouse that was produced in Vancouver. Initially, Two Brothers began as a draft only, 15 barrel production brewery — but by 1998 they were able to secure their first bottling line. They have been rapidly expanding ever since and, as of 2007, they have are at a 30,000 barrel capacity.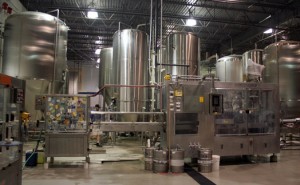 Two Brothers beers are currently available in Illinois, Wisconsin, Indiana, Ohio, Pennsylvania, New York, Minnesota, and Massachusetts.
Now, let's talk about the Two Brothers beers I tasted:
DOMAINE DU PAGE
FACTS = Biere de Garde: 16.9 plato. 24 IBU. 5.9% alcohol. 5 types of malt. Bronze medal winner at the 2007 GABF. Brewed year round.
Appearance: Slightly hazy amber color, medium carbonation
Aroma: Caramel, toasted malt, fruity esters, earthy hop aroma
Taste: Sweet, toasted caramel malt, brown sugar, nutty
Mouthfeel: Smooth, slightly syrupy, viscous, dry bitter finish
Overall Impression: I'm not particularly familiar with the Biere de Garde style, however, from what I can tell Domaine DuPage is pretty close to style. It is extremely drinkable. Would pair very well with French food — something fatty and creamy — perhaps a steak with bernaise sauce.
THE BITTER END
FACTS = American Pale Ale: 13.5 plato. 36 IBU. 5.2% ABV. 3 malts. 3 hops (Mountainhood, Centennial, Cascade). Available year round.
Appearance: Bright, orange-gold color
Aroma: Biscuit malts, pine, grapefruit
Taste: Bread, biscuit malts, clean hops, grapefruit, pine finish
Mouthfeel: Light to medium bodied, well carbonated
Overall Impression: In my opinion, this is a great session beer. It is very drinkable and has a great balance of hop to malt ratio. I really like the hop varietal combination of Cascade, Centennial and Mountainhood. The pine and citrus really come through nicely. This beer would pair very well with a sharp cheddar cheese.
HEAVY-HANDED IPA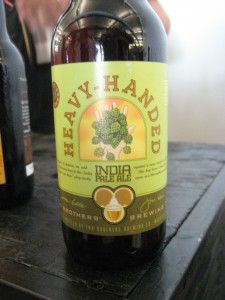 FACTS = American IPA: 100% wet-hopped — brewed to celebrate the hops harvest every year. 65 IBUs. 6.7% ABV. Fresh hops were overnighted from Washington and added to the wort 16 hours after being picked. The lot number on the bottle coincides with the varietal of wet hops that were used. Only available September though December.
Appearance: Dark golden amber color. Lots of head with large bubbles. After the head dissipates, there is a noticeable oil film on the top (from the fresh hops, no doubt).
Aroma: Smack you in the face fresh Pacific Northwest hops — pine, citrus, grass, resin
Taste: Hops completely dominate the palate. This beer tastes like licking the sap off of a pine tree — or sucking on a pine cone. Lots of pine and resin.
Mouthfeel: Oily, thick, very carbonated
Overall Impression: Pacific Northwest hops are definitely an acquired taste. The use of fresh hops made this IPA extremely bitter. And having said all this, I can officially say that I'm in love with this beer. What can I say? I adore the citrus/pine hop varietals. And the more the better. This beer would go really well with spicy food (cajun) as well as pungent and sharp cheeses.
CANE AND EBEL
FACTS = Hopped Up Red Rye Ale: Brewed with 70 pounds of Thai palm sugar. Rye malts. Summit hops (new varietal – 18% alpha hops). 68 IBUs.
Appearance: Hazy, reddish brown. Mild carbonation.
Aroma: Mango, papaya, fruity esters, exotic spices
Taste: Spicy, dry, the caramel/brown sugar sweetness of the malt is well-balanced by a dry, bitter finish
Mouthfeel: Light bodied, silky, decent carbonation, bitter finish that dries the tongue out
Overall Impression: Despite the use of Thai palm sugar, this beer is actually not very sweet. The aroma is extremely exotic and intoxicating. This beer really surprised me. I like it very much and would recommend it to anyone. It would pair very well with Thai cuisine and curries.
BIG THANKS TO CHRISTIAN FROM TWO BROTHERS BREWING COMPANY FOR TAKING THE TIME TO TASTE ME ON THESE FOUR BEERS.
CHEERS!!!