DRINK WITH THE WENCH PRESENTS:
The Beer Blogger Interview Series
Curious what goes on in the minds of your favorite beer bloggers? Well, The Beer Wench is and she has embarked upon a mission to interview as many beer bloggers that she can — from all over the world. Are you a beer blogger? Do you want to share your story? Send me an email!
INTRODUCING: SEAN NORDQUIST
AUTHOR OF: AND BEER FOR THE DADDY
Beer Blogger Interview
Full name: Sean Nordquist
Internet nickname (if applicable): Beer for the Daddy, JediNord, PirateNord
Twitter handle: beerforthedaddy
Name of blog: And Beer for the Daddy
Current location: St. Petersburg, FL
Background "Snapshot"
1. Where did you grow up?
Los Angeles, CA
2. What sports if any did you play growing up, through college and beyond?
Soccer, Ice Hockey, Beach Volleyball, Lacrosse, Martial Arts
3. How old were you when you had your first beer?
I really can't remember. It was probably something terrible and I stole it.
4. If you can recall, what is the story of your first beer? Where did you have it? What style and brand was it?
I grew up in a wine household, so beer was never around except if we went somewhere that had it. I probably stole my first few beers thinking I should like it, but I never did until I was in high school and tasted Guinness for the first time.
5. Where, if applicable, did you go to college? What did you study? What additional activities, organizations, sports did you partake in during college?
I attended Sonoma State University from 1990 to 1992 and was involved in music (I sang in the chamber choir), intramural sports (I captained my indoor soccer team), and creative writing as well as playing on the Lacrosse team. I left after 2 years and moved to Florida, then moved to Prescott, Arizona and finished my undergraduate there. While living in Prescott, I was involved in a lot of outdoor activities like rock climbing and backpacking.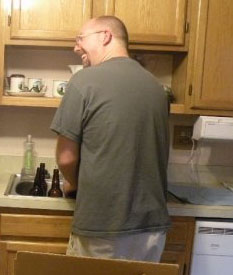 Craft Beer Epiphany
Every craft beer enthusiast has at least one pinnacle craft beer experience that completely changes ones perspective on beer. I refer to this mind-blowing moment as a "craft beer epiphany."
1. What was your first craft beer epiphany? Recall as many details about it as you can:
The door to craft beer opened for me the first time I had a pint of Guinness Stout on draft at a local pub in Rohnert Park. I realized there was so much more that beer had to offer that I had never imagined. I went crazy for beer at that point, trying every micro- and craft beer I could get my hands on… which was a lot.
2. Have you have additional craft beer epiphanies since the first? Detail as many of them as you wish:
My first visit to a brewery was to the Anchor Brewery and the tasting room opened my craft brew eyes evern further to the wonders of FRESH beer, as well as the amazing things craft brewers are.
Beer Blog Background
1. How long have you been writing AND BEER FOR THE DADDY?
Less than a year.
2. What inspired you to start writing your blog?
Brian Yaeger's book "Red, White, and Brew"
3. Why did you chose the name of your blog?
Well you see… The phrase "Beer for the Daddy" might seem like an odd one to some; to others it's a no-brainer. But the origin – at least in this case – comes from flightless birds, parental responsibility, and the mouths of babes.

In 2005, a documentary film called March of the Penguins was released to critical acclaim, becoming the second-highest grossing documentary film of all time (the first being Fahrenheit 9/11).
It is the story of the emperor penguins of Antarctica, and the difficult conditions they live and survive under. Beautifully filmed and wonderfully narrated by Morgan Freeman (in the American version), viewers are treated to a stunning and moving experience unlike any other.

And as far as this blog goes, none of that matters.
You see, we (my wife and sons and I) rented March of the Penguins later that year and watched it together. We loved it. The story was engaging, the images were brilliant. We got to the part where the male penguins were huddled together protecting the eggs. The females are off on their epic journey to feed and then travel back to regurgitate for their newborn young that the father's are now caring for.
The narrator says something along the lines of "and the mothers arrive back with the fish for their babies." Without missing a beat, my youngest son – age 3 at the time – said very matter-of-factly "…and beer for the daddy?"
4. What are you personal goals for your blog? What do you hope to achieve with it?
Initially I started Beer for the Daddy because I love beer, and I love writing. It seemed a natural thing to do. Then I realized the potential of building a portfolio of articles that will lend me some credibility as a writer, as well as in the "beer crowd".
5. What is one of the coolest things that happened to you as a result of being a beer blogger?
I have since found that said crowd is an awesome one and am happy to be a part of it!
6. What are you top 3 favorite beer blogs/beer websites?
Well, I separate the blogs from the sites, sicne I think they fill different niches.
Blog 1: Drink with the Wench – no, not just kissing up, but I genuinely enjoy the style and fun of what Miss Routson does.
Blog 2: Brewed for Thought – Mario has a down to Earth style I enjoy, and he is also a husband and father, which I can relate to.
Blog 3: Beer Odyssey – Brian Yaeger is an old friend and the inspiration for me turning my writing direction to beer. I enjoy his sense of humor and admire his knack for travel and beer-venture.
Site 1: Beer Advocate – My go-to site for beer research.
Site 2: RateBeer – My second go-to site. I just knew about BA first.
Site 3: Cigar City Brewery – The best local brewery in Tampa Bay, and I love their beer.
Beer Talk
1. What are your top 3 favorite beer styles?
IPA, Pale Ale, Stout
2. What are your top 3 favorite breweries?
Cigar City, Lagunitas, Sierra Nevada
If you could work with or for any one brewery, which one would it be and why? Well, I would love to work at Cigar City, since it is local, but if I could work for ANY brewery, it would probably be Stone or Anchor. I love all of their beers, and I miss the California coast.
3. Are you a homebrewer? If yes, what is the most unique and interesting beer recipes you've brewed as a homebrewer?
I have been homebrewing for nearly a decade now. The most interesting I have every brewed is probably my latest batch – and I have no idea how it is going to turn out, but I am excited. It is a porter with rum added to the boil.
4. Do you have any beer certifications (BJCP, Cicerone, Siebel, American Brewers Guild)?? If so, what are they?
Not yet…
5. What is your favorite beer and food pairing?
A good, crisp pale ale with a light and flaky fish and chips is just heavenly.
The Personal Side
1. What is your current day job?
IT Support Manager
2. If you could change your career at this very moment, without any restrictions on what you could do, what would you want to do and why?
Own and operate my own brewery. I would also love to be able to finish my novel.
3. Are you married? Children?
Married 12 years and I have 2 sons.
4. Outside of beer and writing, what are some of your other hobbies?
Reading, music, cooking, and travel.
Off The Beaten Path
1. If you were a style of beer, what style would be and why?
A good session-able Pale Ale.
2. You were caught smuggling beer illegally, which has now been made punishable by death. Right before you are sent to the executioner, you are offered one last beer. What beer would you chose and why?
Cigar City Humidor Series IPA
3. If I contracted you to brew a beer (or design a beer recipe) called "The Beer Wench" — what style would you chose and what, if any, extra ingredients would you add?
It would have to be something strong and surprising with a serious kick, but with a light and pretty appearance. So maybe something along the lines of Dogfish 120…

4. If you could be a superhero, what would you want your superpowers to be?
Telekenesis
5. What is one of the craziest things you have ever done and lived to tell the story?
The "Duffield Death Hike" in Joshua Tree many years ago…
6. What are your thoughts on bacon?
Bacon is the follow-up proof that god loves us and she wants us to be happy.
SPECIAL THANKS TO SEAN FOR AN AWESOME INTERVIEW!
CHEERS!