DRINK WITH THE WENCH PRESENTS:
The Beer Blogger Interview Series
Curious what goes on in the minds of your favorite beer bloggers? Well, The Beer Wench is and she has embarked upon a mission to interview as many beer bloggers that she can — from all over the world. Are you a beer blogger? Do you want to share your story? Send me an email!
INTRODUCING: DAVID PHILLIPS

AUTHOR OF: CHEESE AND CHEERS
Beer Blogger Interview
Full name: David Phillips
Twitter handle: @cheeseandcheers
Name of blog: Cheese and Cheers
Current location: Contiguous suburb of Chicago
Background "Snapshot"
Where did you grow up? Near Ft. Lauderdale.
What sports if any did you play growing up, through college and beyond? Skateboarding and bowling.
How old were you when you had your first beer? 14?

If you can recall, what is the story of your first beer? Where did you have it? What style and brand was it?

The brands us JDs drank back then were really bad, like Wiedemann and Colt 45.  But I remember seeing a cover band doing a ZZ Top song at a horse ranch on a humid summer night, after having drank a couple cans of the swill, and I'll never forget the heightened sense of being alive.
Where, if applicable, did you go to college? What did you study? What additional activities, organizations, sports did you partake in during college? Went to Broward Community College in Florida, then I transferred to Loyola Chicago.  Studied journalism, and I was on the newspaper staff at community college, also put out a punk fanzine called The Borington Journal. I helped start a film society at Loyola, and took my studies quite seriously.
Craft Beer Epiphany
Every craft beer enthusiast has at least one pinnacle craft beer experience that completely changes ones perspective on beer. I refer to this mind-blowing moment as a "craft beer epiphany."
What was your first craft beer epiphany? Recall as many details about it as you can:
Okay, I was a reporter at a tiny daily in Illinois and I kept getting p.r. calls from an agency pushing a story about Beer Across America, one of the early beer-of-the-month clubs. Caved, and ended up writing a column with the headline "Good Things Come in Big Smelly Packages"—one of the bottles of the two 12 packs had broken. Then I started looking, and I found a place in Rockford that kept Bell's Amber or Kalamazoo Stout on tap. The smell from the broken bottle was lovely like something from a bakery rather than a bar-room floor, and the Bell's beers had such character, I knew instantly that this is what beer was supposed to be like.
Later I started reading Jackson's books and that lead to drinking tall glasses of Hefewiezen with stacks of pancakes at sidewalk cafes in Chicago, and marveling over my first bottle of Saison DuPont on the front porch while my daughter created sidewalk chalk masterpieces.
Then there was the string of epiphany's that came about from joining Chicago Beer Society and hanging out with some of the smartest, most passionate people in craft beer.
Beer Blog Background
How long have you been writing your beer blog?

Just a couple months (Mid-March).

What inspired you to start writing your blog?

I was looking for a way to make a living from two of my passions—craft beer and artisan cheese. I needed a website, but the blog was almost an afterthought. Once I started doing it I got hooked.

Why did you choose the name of your blog? Well, really to support the business of the same name.

What are you personal goals for your blog? What do you hope to achieve with it?

Hope to keep the frequency to two or three posts a week. Will cover all things related to beer and cheese and their intersection. Will post pairings, hope to have some guests. Still planning to develop a cheese and beer consulting business, but I love making this wonderful juxtaposition and I simply enjoy sharing it with others. If no one beats me to it, I plan to write a book on the subject.

What is one of the coolest things that happened to you as a result of being a beer blogger? I've made friends with beer bloggers in the UK.  Must admit I feel the same kind of fondness for the UK as I might for a favorite old girlfriend.

What are you top 3 favorite beer blogs/beer websites?
Argh!  To begin with, I've only been following beer and cheers blogs for about a year, so I may not as of yet found the faves. Still, I have found many, many nice ones. Here goes:
Zak Avery's Are You Tasting the Pith
Appellation Beer from Stan

Hieronymus

The Beer Wench

Michael Agnew's A Perfect Pint
Gordon "Zola" Edgar

Cheese + Champagne
It's Not You, It's Brie
Beer Talk
What are your top 3 favorite beer styles?

Glad you gave me three: Saison,  Bitter (all ranges), and Lambic.

What are your top 3 favorite breweries?

Wish you gave me more: Right now I'll go with Meantime, Jolly Pumpkin, New Belgium.

(+Bell's, Cantilion, Goose Island, Ayinger, Three Floyds, Dogfish Head, DuPont, Lagunitas, Lost Abbey, The Bruery, Great Lakes, Allagash, Orval, Rodenbach……ahhhhhhh!!!)

If you could work with or for any one brewery, which one would it be and why? Dogfish Head, becaus

e they like to have fun, but they are serious too, and Dogfish is big enough that they might be able to meet my salary demands.

Are you a homebrewer? If yes, what is the most unique and interesting beer recipes you've brewed as a homebrewer? Yes, and a member of the Chicago Beer Society.  hmmm. I'm kind of a traditionalist when it comes to homebrewing.  Berliner Weisse, and Wit Bier with brett might be as interesting as I'll get, but both the Mild and the Kolsch I did recently with my new brew brothers completely kicked ass.
Do you have any beer certifications (BJCP, Cicerone, Siebel, American Brewers Guild)?? If so, what are they? Certified Beer Server (Cicerone Certification Program).
What is your favorite beer and food pairing? Oh God, just one? Bam Bier with steamed mussels, maybe.
The Personal Side
What is your current day job?

Beer and cheese consultant, if that counts.

If you could change your career at this very moment, without any restrictions on what you could do, what would you want to do and why?

Didn't I just do that?  A major league starter with a 98-mph fast ball and some wicked junk seems like a decent gig. Or a brother at Orval.

Are you married? Children? Yes, God bless her, and we have three lovelies–a graduating high schooler, a first grader (both girls), and a six-year old boy.

Outside of beer and writing, what are some of your other hobbies?

American artisan and farmstead  cheese (I am also a member of the American Cheese Society), jazz, punk, bicycling, camping, fishing, Chicago sports teams, dreaming about high performance sports cars, architecture, and 21st century ironic and iconic American filmmakers, like Wes Anderson, the Coen Brothers and Sophia Coppola.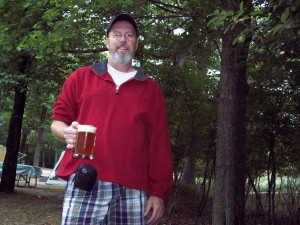 Off The Beaten Path
If you were a style of beer, what style would be and why? A Best (Premium) Bitter. It's just so comfortable and relaxed, and yet dignified, all of which I would like to be.

You were caught smuggling beer illegally, which has now been made punishable by death. Right before you are sent to the executioner, you are offered one last beer. What beer would you chose and why?

Gosh. A special occasion calls for Cantilion Gueuze or Iris, or a Hansens Kriek. I have a couple friends who have some vintages they would never share with me unless I was about to be killed. Then again, Orval might send one off in the right direction.
If I contracted you to brew a beer (or design a beer recipe) called "The Beer Wench" — what style would you chose and what, if any, extra ingredients would you add?

A lovely ruby-colored mild, with about 20% brown malt, and 8% rye malt, and whole cone Fuggles.

If you could be a superhero, what would you want your superpowers to be? Flying would be awesome, X-ray vision, but really I would just want to drive something like a

Ferrari 458 Italia with a weird skin job.

What is one of the craziest things you have ever done and lived to tell the story? One!? Skateboarded down circular expressway ramps in Miami as a kid. Swam through a culvert at the bottom of a rock pit, pulled a fish hook out of a gator's mouth. It was small gator. Hooked a water moccasin with a fishing lure.
What are your thoughts on bacon? I think I want to make the ultimate beer cookie—oatmeal, toasted pecans, chocolate chips and crispy bacon. I'd pair it with Lagunitas IPA, or maybe Hop Stoopid.
SPECIAL THANKS TO DAVID FOR AN AWESOME INTERVIEW!
CHEERS!
DAMN IT … Now I'm craving cheese and beers!