DRINK WITH THE WENCH PRESENTS THE FEATURED BEER PAIRING SERIES
Back in the day, it used to be my job to pair wine with food. Now, after several years in the beer industry, my palate has been trained to understand food and beer pairings. And so, I have decided to take a stab at developing a "Featured Beer Pairing" series on my site, providing beer pairing suggestions and recipes for some of my favorite dishes and then educating people on the "method in my madness."
The Dish: Poke (pronounced POH-kay) is a raw fish "salad" served as an appetizer in Hawaiian cuisine. It is very similar in concept to Japanese Sashimi and Tuna Tartar.
The Style: West Coast IPA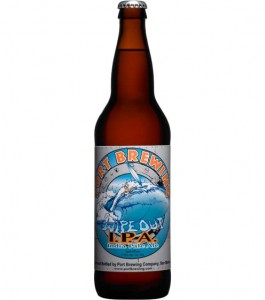 Style Description: Although not recognized by the Brewers Association or BJCP, yet, as its own style category, many brewers (especially us on the West Coast), prefer to think that the West Coast IPA deserves to be a separate style in the general American IPA category.
Ounce for ounce, East Coast and West Coast brewers use relatively the same amount of hops. The difference is the grain bill and the type of hops used.
The West Coast IPA uses a lighter malt bill than its counterparts. Recipes mostly consist of two-row malt with very small amounts of cara pils, munich, and lighter crystal malts. For those that don't brew, this just means that the West Coast IPA tends to be lighter in color, typically a golden (orange-like) amber, and lighter in body than other versions of IPAs.
Although many brewers all over the world use Pacific Northwest hops, the West Coast is most famous for its use of these high alpha acid hops. The most well-known hops include the "Four C's" (Columbus, Chinook, Cascade, Centennial), Simcoe, Amarillo, Warrior and Willamette. These varietals are known for possessing distinctive pine and citrus aroma and flavor characteristics.
Lighter malt character + high alpha acid hops = higher perception of bitterness.
The aroma on these beers tends to be highly citrus (grapefruit and pith), resinous, floral and grassy. Bitter flavors of citrus and pine dominate the palate, with virtually no detectable malt sweetness. Alcohol is moderate (between 6-7% abv), body is medium to medium-light, finish is dry, carbonation is high.
Suggested Beers: Port Brewing Wipe Out IPA, Green Flash West Coast IPA, Russian River Blind Pig, Bear Republic Racer 5, Ninkasi Total Domination IPA, 21st Amendment Brew Free or Die IPA, Drake's Brewing IPA, Bison Brewing Organic IPA, Kern River Brewing Just Outstanding IPA
The pairing, why it works: High fat foods, such as omega-3 rich tuna, require highly carbonated beers (moderate to low in alcohol). The carbonation helps to remove the rich layer of lipids that tends to coat the tongue when consuming high fat ingredients.
However, this dish is not perceived as being high in (good, mind you) fat. The dish is prepared using all raw ingredients, with a focus on fresh, simple flavors. So although it is a richer dish, the flavors and overall experience is fresh. Which means it needs an equally light and refreshing beer pairing.
There are two reasons I chose the West Coast IPA to pair with this dish. 1. IPAs love salt. Salt intensifies the citrus notes in hops, really bringing out their bright, floral character. The soy sauce, salt salt and seaweed in the dish help to intensify the hop flavors in the beer and… 2. IPAs are a perfect match for dishes that possess heat from spice. The refreshing nature of hops allow them to serve as a natural cooling agent. The IPA helps to cool the burn from the chile peppers and jalapenos (especially fresh) in this recipe.
Overall, both components of this paring are highly flavorful, fresh and bright. Neither completely dominates the palate, and both help to enhance the flavor of the other in some way shape or form, making it an ideal pairing. CHEERS!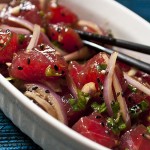 The Recipe: Although the exact recipe varies with region, modern poke typically consists of cubed ʻahi (yellowfin tuna) sashimi marinated with sea salt, a small amount of soy sauce, inamona (roasted crushed candlenut), sesame oil, limu seaweed, and chopped chili pepper. Variations on the basic recipe might include addition of avocado, roe, chopped toasted macadamia nuts, etc. It all depends on preference and access to ingredients.
I particularly like this poke recipe adapted from Trader Vic's:
TRADER VIC'S AHI TUNA POKE
(8 -10 servings)
Ingredients:
1 medium shallot
1 jalapeno chile
½ cup sesame oil
1½ cups soy sauce
2 pounds ahi tuna, small dice (use sashimi grade)
6 leaves cilantro, sliced filament thin
1 tomato, peeled, squeezed dry and coarsely chopped
2 avocados, mashed smooth with a few drops of lemon juice

Directions:
For the dressing: Finely mince the shallot, jalapeno and red Fresno. Mix together with sesame oil and soy sauce until well blended. Set aside.
Mix the tuna, cilantro and tomato with the dressing. Mold a portion of the tuna poke on a plate, being careful to squeeze out any excess dressing. Spoon the mashed avocado on top. (The restaurant serves this with taro chips, atop banana leaves.)