DRINK WITH THE WENCH PRESENTS:
The Beer Blogger Interview Series
Curious what goes on in the minds of your favorite beer bloggers? Well, The Beer Wench is and she has embarked upon a mission to interview as many beer bloggers that she can — from all over the world. Are you a beer blogger? Do you want to share your story? Send me an email!
INTRODUCING: EMILY ENGDAHL

Beer Blogger Interview
Full name: Emily Engdahl
Twitter handle: @emilyengdahl
Name of blog: #pdxbeergeeks
Current location: Portland, Oregon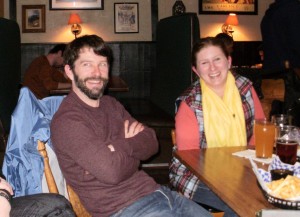 Background "Snapshot"
1. Where did you grow up?
I've lived in Oregon my entire life. With the exception of one year in Ashland for school, and a brief stint into the way SE of Portland, I've lived within less than 5 miles of where I grew up, and where my Grandmother has lived for the last 65+ years. My kids are 5th generation/native NE PDX residents.
2. What sports if any did you play growing up, through college and beyond?
Sports and I aren't really great friends. I have double vision all the time – my brain doesn't process 3D images. So the sports I wanted to play, like tennis & golf, were impossible! I danced instead, including ballet until I was about 19.
3. How old were you when you had your first beer?
Probably about 16. It was terrible. The boys in high school would always drink Mad Dog, Old English, and Coors Light. I wasn't a big fan of beer.
4. If you can recall, what is the story of your first beer? Where did you have it? What style and brand was it?
The first craft beer I ever had might have been at a party in Southern Oregon – I think it was the Pyramid Apricot Ale. Someone got a keg of that and it was big time. (That was back in 1995.)
5. Where, if applicable, did you go to college? What did you study? What additional activities, organizations, sports did you partake in during college?
I bounced around a lot – I went to Southern Oregon University for a year, then I came home and went to Oregon College of Art & Craft for a year. I ended up finishing my degree at Marylhurst University (just outside of Portland) and I have a communications degree with a certificate in Conflict Resolution & Mediation. I took a lot of psychology & counseling courses, transition management, communication & world studies, theology, art classes… I have a wide range of interests, so it would seem.
Craft Beer Epiphany
Every craft beer enthusiast has at least one pinnacle craft beer experience that completely changes ones perspective on beer. I refer to this mind-blowing moment as a "craft beer epiphany."
1. What was your first craft beer epiphany? Recall as many details about it as you can:
I told this to Jamie (Floyd, of Ninkasi) this summer – My craft beer epiphany was when Tricerahops first came out. I remember drinking it and thinking, "Holy sh*t. WHAT IS THIS!?!" I was hooked. I couldn't believe that there was beer that wasn't Henry Weinhard's (what my parents always drank when I was growing up) or that awful, tasteless "beer" from the big three. From my first Tricerahops, I was absolutely enthralled with the new craft beers. I became friends with the specialist (Justin) at my local market, and started trying as many new and different beers as I could, whenever I had the opportunity. I've never looked back.
2. Have you have additional craft beer epiphanies since the first? Detail as many of them as you wish:
I was on a hop kick there for a while – and it was during a glass of Firestone Walker Double Jack on tap that I decided I needed to branch out and drink things completely opposite of IPAs. I'd attended the OMSI Science of Beer Camp, learned how to brew from my brother (a nano-brewery called Lantern Brewing in Seattle) and I started homebrewing on my own. I started reading everything I could find, learning everything I could about craft beer and homebrewing. I try to brew outside the box – I don't brew things that I can buy. I try to think about the beers I brew as an opportunity to push myself further – so the second craft beer epiphany was a combination of all of these things – when I began seeing craft beer and homebrewing as a creative expression.
Beer Blog Background
1. How long have you been writing your beer blog?
I've been writing about beer since 2008 on my own blog (pdxhomelife.com) but #pdxbeergeeks is a recent iteration of the blogging I was doing personally – we've created a community blog about beer for people to come and celebrate the geeky aspects of beery friendship.
2. What inspired you to start writing your blog?
It was literally a conversation with a brand new friend the same night we met. Michael (@mmcooljam) and I were at a brew pub, and we were talking about how we needed a place where all the random, geeky people in Portland could get together and talk about beer and hang out.
3. Why did you choose the name of your blog?
It came up in that same conversation. Everyone calls Portland "PDX," so it was a natural fit – pdxbeergeeks.
4. What are you personal goals for your blog? What do you hope to achieve with it?
I like the fact that we're really one of the only truly community based blogs on beer. We truly like each other – I feel really fortunate to have such a fantastic group of people to hang out with. My personal goals for the blog are what I've listed in our mission statement – "#pdxbeergeeks exist as ambassadors of the craft beer world. Living in Portland affords us rich opportunities to interact with other citizen beer fans, and our local brewers. Focusing on supporting our local craft beer economy, we encourage consumer education, good geeksmanship, community craft beer connections, resource building, informed craft beer choices, and keeping craft beer fun and accessible."
5. What is one of the coolest things that happened to you as a result of being a beer blogger?
I've been blown away at the immediate family & tribe of the craft beer community. 99% of the people I've met are golden hearted, truly wonderful folks. I get a kick out of striking up conversations with complete strangers, finding common ground over a beer, and next thing you know, we're planning a big group dinner for the next week. It's like family. I can't imagine my life without the people I've met through blogging about beer.
6. What are you top 3 favorite beer blogs/beer websites?
I love BREWPUBLIC for the smart writing & top notch information. Angelo is a genius as far as moving through & navigating the world of craft beer. That's probably the one I personally reference most often. I also check in on the Oregon Brewer's Guild site. There are so many great beer blogs it's impossible to keep up on all the good ones!

Beer Talk
1. What are your top 3 favorite beer styles?
I love ESB, IPA & Red ales for session beers. Daily/fridge stock for me would be Elysian The Wise ESB, Vortex IPA from Fort George, and Double Mountain's IRA.
2. What are your top 3 favorite breweries?
Fort George, Double Mountain & Lantern Brewing.
3. If you could work with or for any one brewery, which one would it be and why?
Two answers. Obviously, I'd love to be able to help & work for my brother. He is one of my favorite people in the entire world – and the way he approaches brewing is fascinating for me. He and I have a shared ability to talk about flavors/colors/thoughts/emotions in terms of beer that makes riffing off of each others ideas inspiring. Barring that, I'd love to work at Fort George. I just feel at home there, and I love the beers, the culture there, and the way they embrace the history of their craft.
4. Are you a homebrewer? If yes, what is the most unique and interesting beer recipes you've brewed as a homebrewer?
Yes – I am a homebrewer. My favorite thus far has been the Blackberry Black Currant that I did this summer. It was a constantly morphing process (I brew with a general idea in mind, knowing where I want to end up – but if the process isn't getting me where I want to go, I have no problem changing horses midstream) – and it turned out beautifully. I got a little flack from some of the other beer people on the Twitters for putting fresh hops into it (allegedly masking the fresh hop purity) but I don't care about that when I'm brewing 5 gallons at a time. I shot back "Why would I want to do something that I can get anywhere during the season?" That's not my goal. I want to paint a picture with my beer. I want to do something fun and interesting that amuses me, tastes great, and was a blast to think about and create. When I wake up first thing in the morning thinking about the beer I'm making, after having dreamed about it all night, I know I'm on the right track.
5. Do you have any beer certifications (BJCP, Cicerone, Siebel, American Brewers Guild)?? If so, what are they?
Not yet.

6. What is your favorite beer and food pairing?
I love a great, clean IPA with spicy fish tacos. I would have that for breakfast, lunch & dinner if I could.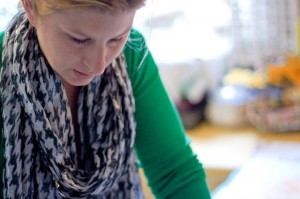 The Personal Side
1. What is your current day job?
I've worked in the mental health field for the last 13 years.
2. If you could change your career at this very moment, without any restrictions on what you could do, what would you want to do and why?
I would continue to do what I'm doing now, without the day job. I freelance graphic design for beer & spirits labels, I write about beer, I brew, I create community & build connections over and around craft beer. I would just be able to switch tracks faster than my current plan of phasing out of my current job.
3. Are you married? Children?
Married, yes, and I have three delightfully curious children. My youngest recently said "Mom, is that Hop in the Dark?" about one of the beers in my flights. We were at Double Mountain, so I had to let him down gently – "No, but that was a great guess." (It was a porter instead of a CDA. He's 6. I guess we discuss beer and he listens.)
4. Outside of beer and writing, what are some of your other hobbies?
I'm a paper sculpture artist (I'm currently working on an installation of an all vintage paper and fabric flower wedding – over 200 hand crafted paper blossoms, an altar, all the centerpieces, boutonnieres, bouquets, etc.), I love photography, I bake, I cook, and I'm taking an aerial arts class (trapeze & silks). Anything creative, I'm into it.

Off The Beaten Path
1. If you were a style of beer, what style would be an why? 
A nice IPA. Universal appeal. Goes with lots of different things. I get along with just about everyone, and it seems that most people can identify with a good IPA. Not too hoppy, just balanced… Just a good, solid beer.
2. You were caught smuggling beer illegally, which has now been made punishable by death. Right before you are sent to the executioner, you are offered one last beer. What beer would you chose and why? N
inkasi Tricerahops. It brought me in, it would have to take me out.
3. If I contracted you to brew a beer (or design a beer recipe) called "The Beer Wench" — what style would you chose and what, if any, extra ingredients would you add?
Well, with your current hair color, I'd create an IRA with hints of ginger (for sass & spice) in it.
4. If you could be a superhero, what would you want your superpowers to be?
Healing. I hate to see people suffer.
5. What is one of the craziest things you have ever done and lived to tell the story?
Oh, now… there are too many stupid things that have been done… I'm lucky to have had the grace I had, because there was a time when I was young, dumb, and hell bent on self destruction.
6. What are your thoughts on bacon?
Bacon should be left on the pig. I don't eat meat of the warm and fuzzy variety. I'm kind of waiting for everyone to be bacon-ed out and get excited about something like leeks.
SPECIAL THANKS TO EMILY FOR AN AWESOME INTERVIEW!
CHEERS!!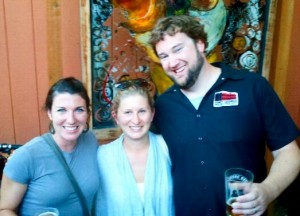 (And stay tuned for an interview with the rest of the PDX Beer Geeks!!!)