DRINK WITH THE WENCH PRESENTS:
The Beer Blogger Interview Series
Curious what goes on in the minds of your favorite beer bloggers? Well, The Beer Wench is and she has embarked upon a mission to interview as many beer bloggers that she can — from all over the world. Are you a beer blogger? Do you want to share your story? Send me an email!
INTRODUCING: ERNIE DUNN
AUTHOR OF: BEER CENTRIC
Beer Blogger Interview
Full name: Ernie Dunn
Twitter handle: @beercentric & @ernpac
Name of blog: BEER CENTRIC
Current location: Piney Flats, TN (a.k.a. – The Flats, or The Tricities)
Background "Snapshot"
1. Where did you grow up?
Kingsport, TN – I am in the upper east corner as far as you can get before you hit Virginia or North Carolina.  I am 45 minutes from an absolute beer mecca, Asheville, NC.  I am also in the buckle of the bible belt.
2. What sports if any did you play growing up, through college and beyond?
Have you seen pics of me?  Sports? What? I enjoy disc golf and poker.  Otherwise, I am a sucky and unwilling participant.
3. How old were you when you had your first beer?
19
4. If you can recall, what is the story of your first beer? Where did you have it? What style and brand was it?
It was at a friend's party who had an older brother who bought us whatever we needed to get that night.  I had had some Jim Beam, but eventually found a Coors Light in the fridge.  I remember it being cold and I didn't care for it at all.
5. Where, if applicable, did you go to college? What did you study? What additional activities, organizations, sports did you partake in during college?
I didn't have the traditional college experience.  I went to a local community college, after spurning Tennessee Tech, and dropped out after a year because goofing off with friends was much more important.  Because of my chosen career path (web programming/design), I found it might be advantageous to go back.  I completed my bachelor's degree online 2 years ago and have seen zilch come from it other than a pretty piece of paper on my wall and the satisfaction of a job well done.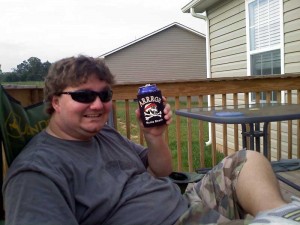 Craft Beer Epiphany
Every craft beer enthusiast has at least one pinnacle craft beer experience that completely changes ones perspective on beer. I refer to this mind-blowing moment as a "craft beer epiphany."
1. What was your first craft beer epiphany? Recall as many details about it as you can:
This is weak.  :)  I traveled to Knoxville TN years ago to go to a local pizza place called Barley's.  This was after having things like Guinness, etc…big brewery type good beers.  I was still rather timid about craft beer and the idea of hops was not something I wanted to discuss. Heck, I just knew hops made beer taste bad. So we get to Barley's and there are about 40 taps.  I see a raspberry beer on tap named Abita Purple Haze and got hooked.
I eventually tried Abita's Turbo Dog, and while I didn't like it, I knew that I had to try other beers from smaller breweries.  My favorites quickly became Left Hand Milk Stout and Rogue Shakespeare Stout because those were available at Barley's as well.  I had friends from Knoxville bring me 6 packs of Purple Haze for a while after that as well.  Come to think of it, I haven't had one in about 3-4 years…I need to relive that.
2. Have you have additional craft beer epiphanies since the first? Detail as many of them as you wish:
I have; when I finally came around to loving the hop! I really became a fan when I had Olde Hickory Tablerock Pale Ale during the 2 years I moved to Knoxville, TN (Go Vols!). I remember having a Stone Arrogant Bastard around that time and just couldn't handle it at that point. The label was right!
But, Tablerock was a nice entry into the world of pale ales and now I love every tasty hoppy beer I can get my hands around.  Beyond that, homebrewing has really been a series of epiphanies about beer.  Creating a recipe is one of the most empowering things you can do and it really makes you look at the parts of a beer that go into the whole package.  Understanding the pieces makes the whole so much more enjoyable.
Beer Blog Background
1. How long have you been writing your beer blog?
I have been blogging about life, poker, music and other things for years.  However, last year I decided to break my beer stuff into another blog and bring in some friends to help me fill it out.  It hasn't quite taken off like I would like it, partly because of my own time constraints and partly because my partners haven't had time to donate either.  I hope to work at it harder than ever this year and get it on track with homebrewing and beer tastings all year long.
2. What inspired you to start writing your blog?
I had a blog as far back as 2002 before there were really blog softwares and sites that would do all the work for me.  I would edit the page daily in HTML and do things like intentionally tick off friends by calling Nickelback the worst band ever.  See?  I was right!

 As far as a beer blog, I found that I was writing more about my experiences as an enjoyer of beer and decided that my natural outlet for that was in blog form.
3. Why did you chose the name of your blog?
The blog is about topics in and around beer…so beer-centric seemed natural.
4. What are you personal goals for your blog? What do you hope to achieve with it?
I don't have many goals other than to use it as a place to record my thoughts and ideas, along with the feedback from friends and people I meet.  I would love for it to become huge, but who has the time for that? With the popularity of Twitter, it makes it easier to meet people who share your passion and will read your stuff, so I hope that this year the blog gets more unique participants, not just visitors.
5. What is one of the coolest things that happened to you as a result of being a beer blogger?
I was asked to do this interview! Ha! Actually, becoming a source of information for friends and people that I meet in person on a daily basis has been a great side-effect of blogging and just being open to sharing ideas, opinions and smart-ass comments about brewing and beer.
6. What are you top 3 favorite beer blogs/beer websites?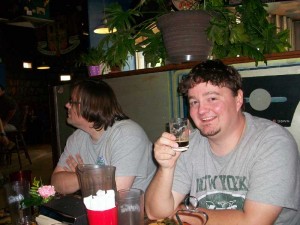 Beer Talk
1. What are your top 3 favorite beer styles?
Pale Ale (including offshoots like ESB, etc), Marzen, IPA
2. What are your top 3 favorite breweries?
Olde Hickory (Hickory, NC), 21st Amendment  (San Fransisco, CA) – I have had the Brew Free or Die IPA and the Come Hell or High Watermelon Wheat only, but that IPA is so good, it hit the top of the charts instantly and Pisgah Brewery (Black Mountain, NC)
3. If you could work with or for any one brewery, which one would it be and why?
Dogfish Head.  If there were a tie for 3 on question 2, Dogfish Head would be right there.  They do such amazing things with different ingredients and the thought process behind their beers is so unique, I would love to just be in the room while they develop this stuff!
4. Are you a homebrewer? If yes, what is the most unique and interesting beer recipes you've brewed as a homebrewer?
Yes. I have been brewing seriously for about 9 months now and am really focused on style over just being off the wall and trying to jack the alcohol out the roof.  I have brewed what I call Frisky Valley Irish Christmas Stout (Dry Irish stout with honey, cinnamon and coriander) and most recently a Rye IPA that turned out very nicely in which I used some smoked malt to change up the flavor a bit.  Joining the local homebrewer's club has been a revelation and has opened me to new ideas and resources to make my future brews much better!  (State of Franklin Home Brewers)
5. Do you have any beer certifications (BJCP, Cicerone, Siebel, American Brewers Guild)?? If so, what are they?
Not right now. I hope to do the Siebel course at some point.
6. What is your favorite beer and food pairing?
I am a huge fan of pairing beer and cheese.  I feel that wine and cheese is too simple, too easy and too overdone.  With beer, you can truly explore what is going on with the cheese as the diverse flavors of beer mix on the palate.  I have done quite a bit of research in this area reading everything I can find online along with the few book resources I have located and would love to one day do pairings for people who are interested in such a service.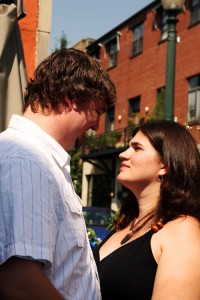 The Personal Side
1. What is your current day job?
I am an ASP.NET developer for United Healthcare. No I do not know why your claim wasn't paid and I am sorry your deductible hasn't been met.  :)
2. If you could change your career at this very moment, without any restrictions on what you could do, what would you want to do and why?
I have long said that my retirement plan is to be a bartender in a mainly beer bar where I can interact with people over craft beer and good food.  A hole in the wall bar is unparalleled when it comes to the willingness of people to let down their guard and just converse over tasty beers.
3. Are you married? Children?
Married with 2 cats. Not expecting anything else at this juncture.
4. Outside of beer and writing, what are some of your other hobbies?
I love to play poker. I also enjoy disc golf (frolf) from time to time and love to be around people.  I am a social butterfly.
Off The Beaten Path
1. If you were a style of beer, what style would be an why?
IPA – I am a little hard to take sometimes because of my sarcasm but once you get use to the idea that I am a little harsh, you start to really like the overall complexity of who I am. Wow…that was corny.
2. You were caught smuggling beer illegally, which has now been made punishable by death. Right before you are sent to the executioner, you are offered one last beer. What beer would you chose and why?
Belhaven Scottish Ale – This has long been my standby favorite beer.  There is something about the way the Scottish brew beer that really works with my taste buds.  This probably goes as a reason why I love Scotch so very much as well.
3. If I contracted you to brew a beer (or design a beer recipe) called "The Beer Wench" — what style would you chose and what, if any, extra ingredients would you add?
I would go with a Belgian Wit.  It would need to be blonde, of course, but still display spice and sweetness in the same package.  I wouldn't fruit this beer with orange or lemon, mind you, because it would stand alone and no doubt would be a favorite for many people.
4. If you could be a superhero, what would you want your superpowers to be?
I would love to shoot spaghetti from my fingertips…wait….channeled Dane Cook there for a minute.  I would love the ability to drop 50 lbs by thinking about it.  Not sure how that would help the world, but it sure would help me.
5. What is one of the craziest things you have ever done and lived to tell the story?
I am diabetic…would a 3 day bender be crazy enough?  :)  I have always been pretty level headed and tried to not end up at gunpoint or hanging from anything.  Unfortunately that leads to very few stories I have lived to tell.
I have quite a few more that end with "you really should've been there!"  I will say that I was apprehended by the K-mart (think cheap ass Walmart if you don't know what this is) security for shoplifting a Ralph Tresvant tape during my formative years.  I did live to tell that tell, but it's far too embarrassing to do so.
6. What are your thoughts on bacon?
God himself, despite all the biblical talk about not eating swine, create pigs out of bacon so that we could slice them up, fry them and enjoy them a couple ounces at a time in this glorious meat called bacon. Who am I to question "Big Guns" upstairs? I have admitted to being non-athletic, chubby and out of shape…of course I heart bacon with all the heart anyone could ever have….ever.
SPECIAL THANKS TO ERNIE FOR A FANTASTIC INTERVIEW
CHEERS!