78 years ago today, the Repeal of Prohibition in the United States was accomplished with the passage of the Twenty-first Amendment to the United States Constitution on December 5, 1933. (source: Wikipedia)
A little over 100 years ago there were over 3,000 breweries in the United States, but then along came Prohibition. But the American brewing spirit persevered. 5 years after its repeal there were several hundred breweries producing beer. (source: Dr. Bill Sysak, Stone Brewing Co.)
Today in America, there are over 1,500 breweries — a number which is rapidly increasing, according the Brewers Association.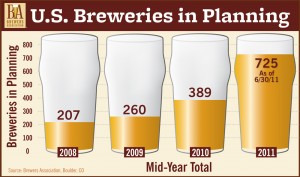 In celebration of the 21st Amendment and support of the craft beer revolution, I thought it was only appropriate to share with the world a video that I, personally, believe truly encompasses the craft beer mentality and the passion of its biggest advocates.
"We must educate the average beer drinker. We must illuminate the possibilities. We must help and support our local breweries. We must spread the message. Introduce, educate, and illuminate the choices. Spread the message and declare with conviction: I AM A CRAFT BEER DRINKER."
I am a Craft Beer Drinker from New Brew Thursday on Vimeo.
Written by Stephen Johnson : @darthweef
Directed by John Holzer : @johnholzer
Produced by New Brew Thursday : @newbrewthursday
Follow IAACBD on Facebook
Follow @IAACB on Twitter