It recently dawned on me that, despite the fact that I drink beer every single day, I have been really bad about writing about the beers I drink.
Bad Beer Wench.
Last week, I had the opportunity to shadow brewmaster Steve Altimari as "Brewer For A Day" at Valley Brewing Company. The experience was tremendous and I look forward to writing about it shortly.
Steve was kind enough to send me home with a couple of samples. I figure it is only nice of me to talk about them, right?
Today I popped open a bottle of Decadent Evil. According to its label, Decadent Evil is considered to be a Belgian Style Golden Ale. Valley used local organic pomegranate honey in a secondary fermentation. This beer originally debuted as part of the 2009 Collaborative Evil GABF project.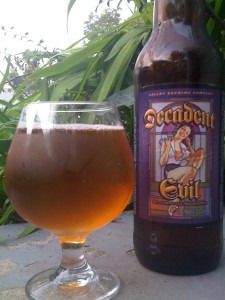 DECADENT EVIL
Specs: Pilsner Malt, a little Cara malt, Oatmeal (3%) and Wheat (9%). Mt. Hood hops,
32 IBU's calc., only one bittering charge. 1.084 starting gravity. Organic pomegranate honey added in secondary fermentation.
Appearance: Deep marigold, excellent clarity, relatively thin white head that dissipates quickly.
Aroma: Significant fruity esters reminiscent of banana-nut bread (dead serious on that one), sugar cookies and honey. Moderate pepper notes. Spicy & floral hop aroma. Very light malt character, aroma is dominated by hops & yeast.
Taste: Sweet and slightly "winey" with hints of honey. Extremely fruity with a noticeable hop bitterness.
Mouthfeel: Moderate carbonation, smooth, medium bodied, slightly vicious, noticeable alcohol warmth. Dry, bitter finish.
Overall: Complex, well-balanced and very fruity. Its fruity ester dominated aroma in combination with its bitter, dry finish is very reminiscent of Duvel. The main difference, is the honey addition and its winey like character.
For me, this beer was both Decadent and Evil. The organic pomegranate addition in secondary fermentation gave it a unique complexity that I really appreciated. Since I have had the opportunity to spend time with him, I know personally that Steve likes to use pomegranate in his beers. He is pretty dedicated to putting his own "Central Valley California" touch on all of his beers — which I think is awesome.
This is definitely a perfect beer for my wine friends. And my beer friends. Well heck, all my friends.
Cheers!
Disclaimer: This beer was given to me as a free sample from Valley Brewing Company. (Stupid disclosure laws…)