(photo credit above: David Jensen of Beer 47)
R
iddle: What do you get when you brew a traditional beer style with unconventional ingredients?
Answer: An identity crisis.
And what happens when one of those ingredients contains rye?
Answer: A Ryedentity Crisis.

Knee Deep Brewing Company and Devil's Canyon Brewing Company in conjunction with The Beer Wench are excited to announce the release of Ryedentity Crisis, a special limited release Black Rye Saison only available in a few key locations during San Francisco Beer Week.
These days, many craft brewers are stepping outside of the box, brewing beers that do not fit into any one style guideline. Many of these beers occur during collaborations, where each party brings a unique component, concept or brewing technique to the table. Some would argue that too many cooks in the kitchen spoils the broth. Too many brewers in the brewery, on the other hand, can lead to moments of genius.
This fall, Jeremy Warren, the up and coming brewmaster of Reno's newest craft brewery, Knee Deep Brewing Company, ran into beer journalist and amateur brewer, Ashley Routson, known to many as The Beer Wench, at the Buckbean CANFEST, Reno's International Canned Beer Festival. After a wee bit of imbibing, the two decided to team up and brew together.
Still in the process of setting up his new brewing facility in Lincoln, CA, Jeremy approached his friends at Devil's Canyon Brewing Company, where he currently brews his fine craft beers, to join the collaboration  team.
"Between managing our own portfolio of products and contract brewing for up and coming craft breweries, little equipment time is left to experiment with new recipes and ideas. SF Beer Week is a much welcomed opportunity to step back from the daily chaos that comes with running a successful brewery and get back to one's roots – creating something new, unique, and tasty, and what better way to do so, than in the spirit of collaboration with other like-minded beer artisans!" – Daniel Curran, Devils Canyon.
Routson spear-headed the recipe development, suggesting a Black Saison. "I am really digging the recent trend towards brewing traditionally pale styles of beer (such as IPAs and lagers) with darker specialty malts. Not only does it add interesting depth and great malt character, it also messes with the mind of the drinker. Kind of trips people out."
But brewing a black version of a pale style is not the only characteristic that makes this collaboration beer unique. The team also decided to use rye, an unconventional malted grain for the style.
"What a better way for us to introduce ourselves to the beer and brewing community by brewing an amazing Black Rye Belgian Saison with Devil's Canyon Brewing Company and the Beer Wench for release during S.F. Beer Week." – Jeremy Warren, Knee Deep Brewing Company.
According to official style guidelines, this beer cannot be classified as a Saison. It doesn't fit into any of the typical dark beer categories. And it technically isn't a true rye beer. Essentially, the beer has multiple identities and is experiencing an intense identity crisis. Or is it a RYE-dentity crisis?
The pilot patch of Ryedentity Crisis is super limited and only available on draft at select locations in the Bay Area during San Francisco Beer Week 2011. It will be available to taste during the opening Gala on February 11th. Stay tuned for a list of locations and events where Ryedentity Crisis can be found.
Follow the collaboration team on Twitter:
ABOUT KNEE DEEP BREWING COMPANY
Brewmaster Jeremy Warren is a graduate of the University of Nevada Reno. It has been said that his passion for beer helped sustain him through his college years. Jeremy has been brewing since 2006. In his brewing career to date, Jeremy has produced over 20 different beers.  Jeremy's brews have received several awards, including the Sierra Tap House & Sierra Nevada Brewing Company Brewmaster Choice and runner up in the peoples choice at The Bistro 13th Annual IPA Festival.  Jeremy has a rapidly growing reputation and is becoming known for his unique blends and creative outlook on brewing.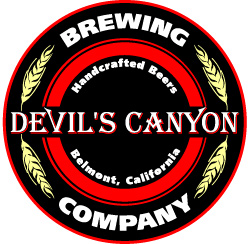 ABOUT DEVIL'S CANYON BREWING COMPANY
Devil's Canyon Brewing Company, located in the heart of the San Francisco bay area peninsula, produces award-winning, handcrafted beer and root beer centered on the most premium ingredients. Brewed in Belmont, and delivered to over 200 taps on the Peninsula and in the South Bay.
ABOUT THE BEER WENCH
Ashley is a self-proclaimed craft beer evangelist, social media maven, and beer industry professional on a mission to advance the craft beer industry through education, inspiration and advocacy. She currently works with Bison Organic Beer in Berkeley, CA. Ashley is also a freelance beer journalist who maintains her own beer blog, DrinkWithTheWench.com.