Can't make it to New Orleans for Mardi Gras this year?
Well if you are lucky enough to live in New England and are willing to make the trip, I highly recommend attending the Mardi Gras Festival hosted by Magic Hat Brewing Company in Burlington, VT. Drum roll please …
Magic Hat's Mardi Gras Weekend Returns…
Thawing Icy Streets Yet Again!
Raucous revelers and warmed watchers alike are invited to roam the frozen streets of Burlington, Vermont, for the 15th annual Magic Hat Mardi Gras weekend, filled with music, moonpies, parades and community aid. This all-ages extravaganza is a "party with a conscience" to benefit the Women's Rape Crisis Center of Chittenden County (WRCC), raising over $100,000 over the years.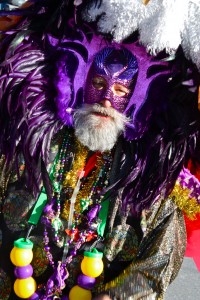 The Ins, The Outs, The What-Have Yous
Friday, February 26th – The brouhaha begins at 9pm sharp as Connecticut-based funk rockers Deep Banana Blackout take the stage in the ballroom at Higher Ground! Come join fellow Mardi Gras gatherers and soak up the sounds of one of the hottest, most original funkin' bands playing today, for they don't come round often, and prepare thyself for Saturday's fabulous affair.
Saturday, February 27th – Kicking off the pre-parade rituals at 12 noon will be Caravan of Thieves, a swingin' good Gypsy-inspired quartet with a unique and intricate fast-paced sound. As you listen, dance your way over to revered concert poster artist Jim Pollock, who will be signing and selling his specially designed Mardi Gras prints to benefit WRCC. Next up will be Burlington's own band of Afro-Brazilian music makers, Sambatucada, starting their beats at 1pm. Gather round as they take to Church Street to create big beats to get your blood pumping. As the train of floats readies, our Mardi Gras Costume Contest will commence at 1:30pm in front of City Hall. Magic Hat co-founder Alan Newman will crown the King and Queen of Mardi Gras, who will each win $500 cash!
At 3:00pm, the Main Event makes good on its word, winding it's way through the streets of downtown Burlington! Upwards of 30 fabulously festooned floats will swivel their way up Church Street before thousands of onlookers. Gather 'round to watch Burlingtonians sling sweets from Lake Champlain Chocolates, moon pies and beaded baublery galore to the bedazzled crowds lining the Church Street Marketplace.
The Mardi Gras Parade Post-Party begins as soon as the last float has been filed away. Hit the purveyors of potables and foodstuffs around the Marketplace and fill up on New Orleans cuisine, Magic Hat beer and friendly folly with folks from all over the world.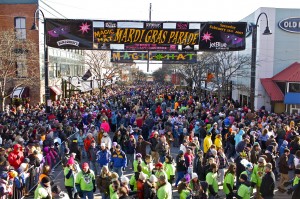 On Sunday, February 28th, consider hindering your departure and see what northern Vermont has to offer. From skiing at Jay Peak to lickingdairy treats at the Ben & Jerry's Factory to sampling some of the best tasting beers on the planet at the Magic Hat brewery, there's no shortage of surefire fun for you and yours.
Magic Hat's 15th annual Mardi Gras weekend is presented by Seven Days, 99.9 The Buzz and WIZN, and is underwritten by Jet Blue Airways and Ben & Jerry's, with additional help from Jay Peak and Hilton Hotels. For all the details on making make the most of your Mardi Gras adventure, visit www.magichat.net.
Magic Hat Brewing Company and Performing Arts Center, creators of #9®, Lucky Kat®,Circus Boy®,  four seasonal offerings and a revolving roster of Odd Notions, supports the arts community and reminds you that safe sex is great sex.
"Get tested, Get a condom, Get it ON!"