As both a craft beer evangelist and an astronomy freak (star and moon obsession, true story), I am particularly excited about Fifty Fifty Brewing's 5th Anniversary Celebration party this year, during the annular eclipse this May. Known for its highly coveted, internationally award-winning Eclipse series of Bourbon barrel-aged Imperial Stouts, Fifty Fifty Brewing is inviting its friends and fans to experience the pairing of a lifetime: Fifty Fifty's Eclipse + the Universe's Solar Eclipse, a once in a year opportunity.
"The planets have aligned, or more accurately, they will on May 20, 2012. While most of North America will be left out, including local cities like San Francisco and Sacramento, Truckee lies in the path of totality for the annular eclipse coming up later this spring." - (Press Release, Fifty Fifty Brewing)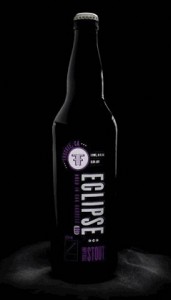 The celebration will take place at the Fifty Fifty brewpub in Truckee (North Tahoe, CA), starting at noon on May 20th. In addition to live music and awesome beer & food, co-owner, Alicia Barr, says that they anticipate 'cleaning out the cellar' to start making room for expansion, and offer some rare bottles for sale including previous vintages of Eclipse, BART, other barrel-aged blends, and some new products as well.
Tickets available at a discount in advance through FiftyFifty's website.
Event Information:
* Date: Sunday, May 20, 2012
* Time: Noon – 8:30pm
* Venue: FiftyFifty Brewing Co. (Truckee, CA)
* Cost: $14 advance, $17 at the door. $7 for kids
* Bounce house, family games, and eclipse viewing
* Live music throughout the day
* Food: BBQ smoked over Eclipse barrel wood, Sushi from Drunken Monkey
* Drinks: FiftyFifty beer, spirits, water and soda for the kids!
About FiftyFifty Brewing Co.:
FiftyFifty Brewing Co.: Find Your Balance. Located in Truckee at 11197 Brockway Road, between Hwy 267 and downtown Truckee. Open seven days a week from 11:00 a.m. to 2 a.m., FiftyFifty serves both lunch and dinner to complement their variety of beers brewed on the premise. FiftyFifty also features a full bar, seasonal outdoor seating on the patio and live music and entertainment.
Follow @5050Brewing on Twitter